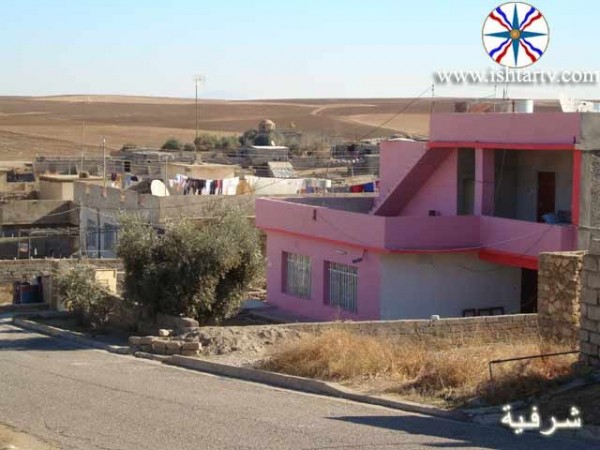 Translated by: Aziz Emmanule Zebari
It is an ancient archaeological village which lies 45 km to the north of Mosul and 5km south of the sub-District of Elqosh. It is among the villages that lie in the Plain of Nineveh. Its inhabitants main profession is agriculture and cattle breeding. The lands of the village are a property of the two Monasteries of al-Sayida and Rabban Hormez in Elqush.
Being an ancient village, archaeological remains and findings can be seen on eastern side of the village such as clay and pottery containers and remains of bones and skulls buried in ovens of baked clay, that surface sometimes during soil erosion or else on digging for building foundations. This is an indication that the village was inhabited since the ancient pottery age.
Inhabitants
Based on statements made by our forefathers and ancestors, many peoples dwelled in the village, such as Yezidis and tribes named Saranaye who are Christians in addition to some other tribes from Elqosh. The village was later inhabited by the present dwellers since 1938. They are the people who were displaced from the Hakari area in the mountains of Tyari (Ashitha) now in Turkey.
Name
It is a common knowledge amongst the people of the village that the name most probably comes from a Yezidi shrine whose remains can still be seen called Shekh Sharaf or Sharafu-ddin. Other, however, say that the name refers to the Arabic verb " to overlook" (tashrifu), because the village overlooks the surrounding agricultural lands irrigated by rain.
Churches
There were no proper churches when village was first inhabited apart from a house that was used to carry out religious ceremonies and Christian liturgical rites. Later, a church was built from adobe named the church of Mar Gewargis in the west side of the village that was large enough to carry out all the ceremonies.
Then a modern church with its annexes was built from stone, gypsum, and cement by the name of Virgin Mary's Church in the east side of the village that is still standing today. After that a modern church with all its annexes was built through support from the Iraqi government in the west side of the village named the Church of Mar Gewargis.
The village of Sharafiya was also covered by the reconstruction campaign launched by Mr. Sarkis Aghajan whereby the church of village was completely renovated by the Higher Committee for Christian Affairs (HCCA) which also built a house for the priest and a multi-purpose hall to offer various services to the people of the village. The committee also built a school called al-Ruha school for catechism. The committee also supplied the village with a big power supply generator.