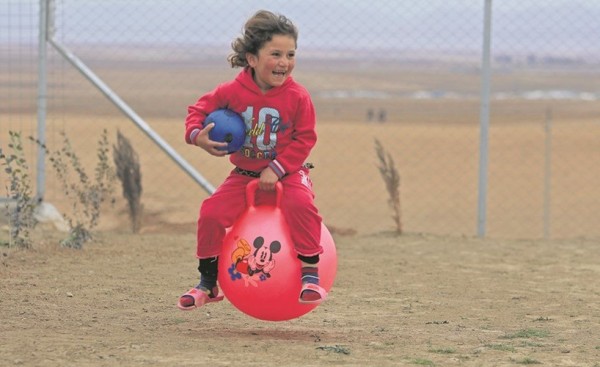 A Yazidi child who survived a massacre of the religious minority plays at an orphanaage in Duhok, Iraq
ishtartv.com - churchtimes.co.uk
by Adam Becket, 19 January 2018
THE Bishop of Coventry, Dr Christopher Cocksworth, has said that the protection of religious and ethnic minorities, including Christians, in Iraq is crucial for a "secure and politically stable" future for the country.
Dr Cocksworth led a debate in the House of Lords, on Thursday of last week, on the rights of religious and ethnic minorities in Iraq. Unless the causes of violence were rooted out, he said, it would return, and minorities would be the first to be targeted.
He argued that "the UK has both a moral responsibility and a strategic interest to help secure a stable and flourishing Iraq," and urged the Government to use its influence to secure aid for minority groups, and empower the Iraqi and Kurdish governments to protect all members of their societies.
"Iraq may have become a land where Yazidis, Christians, Turkmen, and other minorities have suffered unspeakable brutality; where tensions between Shia and Sunni Muslims have spilt blood that has run deep into the soil of the nation; and where the aspirations of Kurds and Arabs divide the country. But it is also a land with a longer history of religious and ethnic coexistence."
He told peers that "if that tradition could be harnessed in a renewed political and civic culture", then the region would flourish and the world would become a safer place. Action needed to be taken to give "Christians, Yazidis, Turkmen, Sabeans, Yarsanis, Shabaks, and other vulnerable religious and ethnic communities in Iraq confidence that they have a future in their own land."
Responding, Baroness Anelay (Conservative) said: "Now is the time to stand shoulder to shoulder with the Iraqis until the dream of a secure and prosperous future becomes a reality."
Lord Glassman (Labour) called on the Government to show some "special solidarity" with Iraq's Christians. "Christians have been established in the region since before Islam, having been there for 2000 years. Given what they have been through, it is right that there should be some solidarity with them."
Baroness Goldie, a government whip, told peers that it was vital that rebuilding efforts in Iraq take into account all citizens and minorities, and that the Government welcomes the Iraqi government's position to protect all; but it was "concerned by reports of continuing religious persecution".
She said: "The Government firmly believe that religious freedom is not just an important right in itself but a vital foundation for a stable and prosperous society. That is why we are working so hard to support a truly inclusive and representative process of reconciliation in Iraq."
The number of Iraqi citizens returning back to their home regions has exceeded the number of those internally displaced for the first time since Islamic State took over parts of the country in December 2013, the United Nations migration agency has said.
Almost six million people were displaced by the conflict, and 3.2 million are returning to their home region, while 2.6 million people remain displaced, the International Organization for Migration reports.