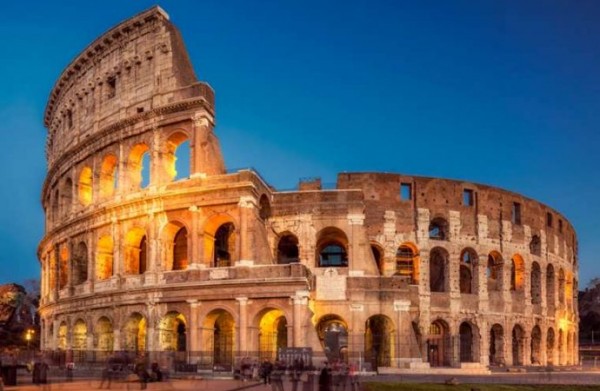 (Credit: Ruslan Kalnitsky/Shutterstock.)
Hannah Brockhaus, Feb 8, 2018
ROME - The Roman Colosseum will be illuminated by red lights later this month to draw attention to the persecution of Christians around the world, and especially in Syria and Iraq.
On Saturday, Feb. 24, at 6 p.m. the Colosseum will be spotlighted in red, to represent the blood of Christians who have been wounded or lost their lives due to religious persecution.
Simultaneously, in Syria and Iraq, prominent churches will be illuminated with red lights. In Aleppo, the St. Elijah Maronite Cathedral will be lit, and in Mosul, the Church of St. Paul, where this past Dec. 24, the first Mass was celebrated after the city's liberation from ISIS.
The event, sponsored by Aid to the Church in Need (ACN), follows a similar initiative last year, which lit-up London's Parliament building in red, as well as the Basilica of the Sacred Heart in Paris and the cathedral in Manila, Philippines. In 2016, the famous Trevi Fountain in Rome was lit.
Alessandro Monteduro, director of ACN, told journalists Feb. 7 that the "illumination [of the Colosseum] will have two symbolic figures: Asia Bibi, the Pakistani Christian condemned to death for blasphemy and whose umpteenth judgment is expected to revoke the sentence; and Rebecca, a girl kidnapped by Boko Haram along with her two children when she was pregnant with a third."
"One of the children was killed," he said, "she lost the baby she was carrying, and then became pregnant after one of the many brutalities she was subjected to by her captors."
Once she was freed and reunited with her husband, she decided she "could not hate those who caused her so much pain," Monteduro said.
Aid to the Church in Need released a biennial report on anti-Christian persecution Oct. 12, 2017, detailing how Christianity is "the world's most oppressed faith community," and how anti-Christian persecution in the worst regions has reached "a new peak."
The report reviewed 13 countries, and concluded that in all but one, the situation for Christians was worse in overall terms for the period 2015-2017 than during the prior two years.
"The one exception is Saudi Arabia, where the situation was already so bad it could scarcely get any worse," the report said.
China, Eritrea, Iraq, Nigeria, North Korea, Pakistan, Saudi Arabia, Sudan, and Syria were ranked "extreme" in the scale of anti-Christian persecution. Egypt, India, and Iran were rated "high to extreme," while Turkey was rated "moderate to high."