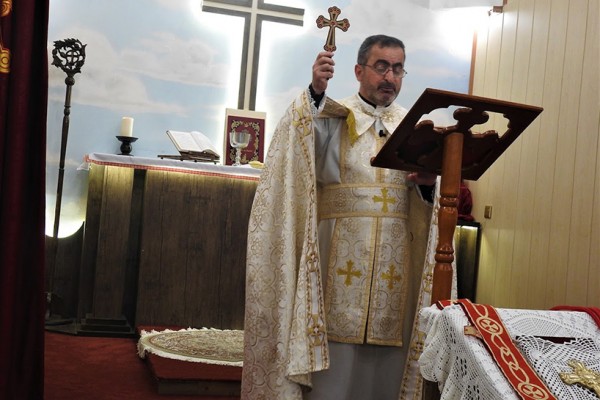 By A.C. Robinson, 1-4-2018
SORAN, Kurdistan Region – Assyrian Christians in Diyana, a city in the Soran region, observed Easter with a midnight mass at St. George's Church. Soran is known as the "place of coexistence," as Christians and Muslims have been living together in harmony for years without conflict.
"This event is very important because it's Easter, the resurrection of Jesus, so we all gathered here for the service," Rita Romeo, 27, a member of the church choir and an English teacher at a local Assyrian school in Diyana, told Rudaw English. She said a bonfire would be lit after the service along with an activity known as "egg tapping" – a traditional Easter game.

Romeo wished a happy Easter to those inside and outside of Iraq. "I hope that peace will spread inside Iraq, especially Kurdistan."

Father Yatron, who has officiated over religious ceremonies at three different churches in the region for more than 15 years, led the midnight mass at St. George's Church, joined by male and female choirs singing various hymns in the Syriac language.

The Diyana service began at 9 p.m. on Saturday night with prayer services running through to 12:30 a.m. on Sunday morning, followed by communion.

Communion, practiced by different Christian denominations, is the act of eating bread and drinking wine (or grape juice) to symbolize the body and blood of Jesus Christ in order to remember the sacrifice he made for his followers.

Afterward, worshippers joined together outside, where a large bonfire was lit under the full moon.

Colored boiled eggs were then handed out for the "egg tapping" competition. In this traditional Easter game, participants take turns tapping their egg against their opponent's. The winner is the player who cracks their rival's egg without breaking the shell of their own.

The egg in Christianity symbolizes rebirth and was adopted as a symbol of the resurrection of Jesus at Easter.

"We are a like a big family in Diyana," said Gorgees Maleel, a native of Diyana who currently works in Erbil. "Coming to the church is like giving back something to the community who taught you since the beginning. This church has taught us many things through volunteers without asking for anything in return."

Were it not for the Assyrian churches, their native language of Syriac would have "vanished years ago," Maleel said. The tongue, a modernized version of the Aramaic spoken by Christ, was once forbidden to be taught in schools, so it is up to the church to keep their language alive. "It's not only about Christianity, it's about our nationality as well," he added.

There are now special schools for Christians in the Kurdistan Region that teach all subjects in Syriac from primary school up through university.

Local government officials from different political parties will visit St. George's Church on Sunday morning to wish a happy Easter to the Christians there.

"Even if they are Muslim, they always come to congratulate us on Christian holidays and we do the same for them for Muslim holidays," said Maleel. It is as a sign of respect, acceptance of each other's beliefs, and true coexistence in a country haunted by decades of ethnic and religious intolerance.

Another regular at the church's holiday celebrations is an expat, Anne Kabade from Zimbabwe, who was a teacher in Diyana for two years before moving to Erbil to teach.

"If I were at home, I would be at Easter Camp," Kabade said. "The church in Diyana has become my away church and I look forward to Easter mass yearly because of the way it feels."

"I hear nothing but feel everything," she added.

Diyana is located 110 kilometers (68 miles) northeast of Erbil city in the Erbil Governorate. Diyana (also spelled Diana) is derived from the Kurdish word meaning "Christian." It still carries the name from when it was a small Assyrian village. It expanded rapidly into a largely Kurdish city with a current population of approximately 175,000 – up from 27,000 in 1991.

The Christian community includes approximately 140 families from the Nochiya Assyrians originating from the province of Hakkari in Turkey. Some 20,000 Assyrian's throughout the world can trace their heritage back to the Nochiya tribe. Although Syriac is spoken within the community, Christians in the Soran district, located in the triangular area between Iraq, Iran and Turkey, also speak Kurdish, while other Christian villages throughout the Kurdistan Region and Iraq also speak Arabic.

Easter Sunday on April 1 coincides with the 6768th Assyrian New Year. Many Assyrians travel to Duhok for the Akitu festival, which marks the rebirth of nature in the spring, securing the life and future of the people for the coming year.
Photos: A.C. Robinson