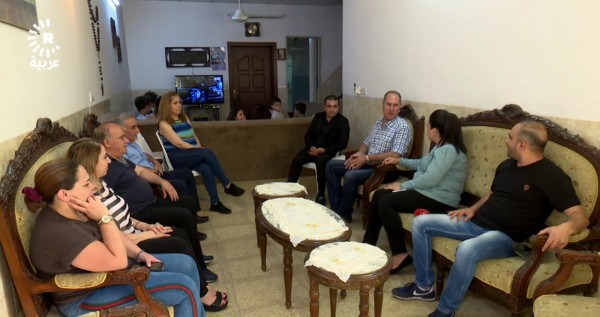 1-1-2018
Increasingly, Christians from Syria are fleeing to the Kurdistan Region instead of Lebanon. The religious minority group says they aren't harassed and don't feel like strangers.

In Erbil they hope to apply for asylum at foreign consulates.

"Here is more suitable than Lebanon. They generally help Syrian refugees coming here to travel to Europe. They make things easier for them in Erbil. The situation in Erbil is generally comfortable. The people in Erbil get treated as the natives, a respectful treatment," Abu George, who is known as the chieftain of Syria's Christians in Erbil, tells Rudaw.

Nour is a Syrian Christian whose brother drowned on the illegal migration route. The hardships in Syria and Lebanon closing its doors to Syrian refugees left the Kurdistan Region as the only viable option for Christians.

"The situation deteriorated badly. There were bombings, and the battle of Ghouta started. We were residing in the Bab Touma area. There were bombs and artillery raining on us. We had neighbors in Erbil. They told us we could come to Erbil and that in the embassy we and all of our family members could emigrate easily without the need for a sponsor, that they knew the road and that they would take us with them," she says.

Christians in Syria before the events and the chaos that engulfed the country in 2011 made up approximately 10 percent of the population.

"Syria was very good, for all components. Actually no one would know whether this or that neighbor was Christian, Muslim, Druze, or Alawite. No one would know. They were all brothers and like each other, no discrimination between them. Following and during the events, they all became sects, especially after we had armed militants come and threaten us," explains Jihad Mawas.