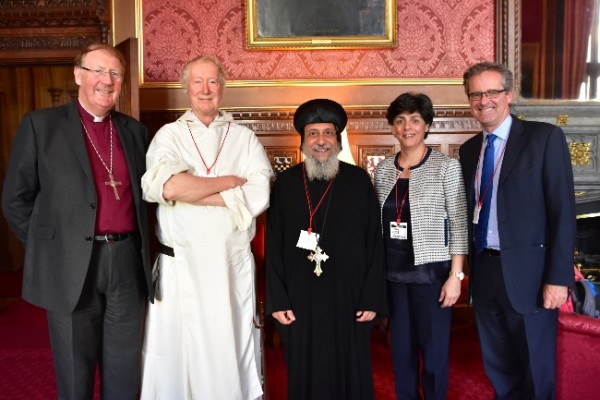 (Left to right) Rt Rev Dr Michael Langrish; Timothy Radcliffe; Bishop Thomas; Dr Souraya Bechealany; Tim Livesey Embrace the Middle East CEO Embrace the Middle East
ishtartv.com - thetablet.co.uk
22 June 2018
"The image of Christian and Muslim mothers giving birth to babies leaves us with the hope that a new Iraq can be born," Father Timothy Radcliffe OP, former Master of the Dominican Order, has said in a panel discussion organised by 'Embrace the Middle East' on the experience of Christians in the region.
Speaking at an event at Speaker's House in the House of Commons 21 June, Fr Radcliffe said that in 2003 there were 1.5 million Christians in Iraq. This figure dropped to 300,000 in 2018, he continued. Even though Daesh has lost its control over Mosul, many of its militants "have shaved their beards, and are back in the community". Christians in Iraq continue to live in a state of fear, and they are attacked on average four times each day.
The situation is no better in Egypt, said Bishop Thomas of the Coptic Diocese of El Qussia and Mair in Upper Egypt. He said there has been a huge exodus of Coptic Christians to the West as a result of the persecutions they have suffered.
Speaking to The Tablet, Bishop Thomas said: "The silent exodus of Coptic Christians is not only motivated by economic reasons. They are looking for a more open and accepting society to live in."
The most effective antidote against this exodus, explained Bishop Thomas, is to transform society through a process of democratisation. According to the Bishop, "democracy is not only expressed in political terms, it is a grassroots decision which stems from individuals who accept responsibility for their lives". Bishop Thomas and Father Radcliffe agreed that democracy in the Middle East can only be achieved through greater levels of education. Father Radcliffe explained: "Education is an extraordinary sign of hope, and represents a refusal to succumb to fundamentalism". Daesh have destroyed many schools in the region, but charities and missionaries are reconstructing these educational establishments. Many nuns are teaching at the University of Mosul, despite the huge threats to their personal safety.
Dr Souraya Bechealany, Acting Secretary General of the Middle East Council of Churches, said that Christians and Muslims must reject the binary division between majority and minority, and should build the future of their countries together. She explained that the Middle East has historically been a pluralist society, with a high degree of religious and cultural diversity.
She added: "Christians in the Middle East do not have to be protected, they have to work side by side with Muslims."
On this note, Bishop Thomas said that Christians should ally themselves with the forces that look towards "the transformation of society".
He explained: "Christians need to balance their power in society, by serving the needs of society." He said he wished that Christians could drive the "transformation" in Egypt by training citizens "to be the actors of change".