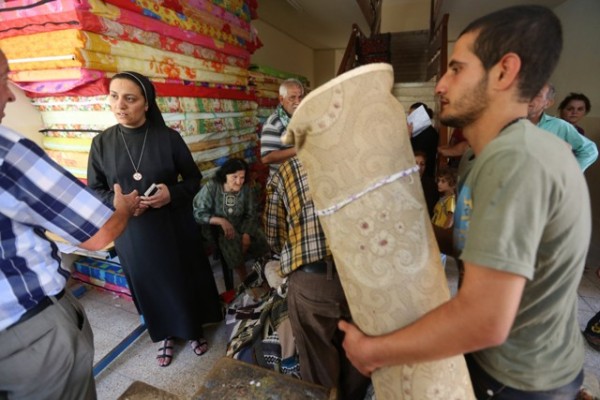 American Christians must not sit silently as the government turns its back on Christian refugees in other parts of the world, such as the Middle East. Hussein Malla
ishtartv.com - washingtonexaminer.com
By Matthew Soerens, July 23, 2018
Mana — that's her preferred pseudonym — fled to Turkey in 2012. After her home was raided by the Iranian government and her older son was imprisoned, Mana concluded that fleeing was the only way that she and her younger son would be safe. After two-and-a-half years living as refugees in Turkey, she was accepted by the U.S. refugee resettlement program and allowed to replant her life in the U.S.
Three years after arriving, Mana now has her green card, her younger son is thriving in school, and she's starting a small business. But she fears for her older son, who was released from jail but, as a result of a near-total shutdown of refugee resettlement for those from Iran, is unlikely to be able to join his family in northeast Ohio anytime soon.
Many Americans are likely aware that the number of Muslim refugees allowed to enter the United States is down dramatically. The decline is stark: 44,794 Muslim refugees were admitted to the U.S. in 2016. Halfway through 2018, just 1,824 Muslim refugees have been allowed in. What most Americans likely do not realize is that persecuted Christians have also been shut out by recent changes to the U.S. refugee resettlement program.
While some Americans may celebrate this change, I fear they may not have been told the entire story — and the results are tragic.
Christians believe that each person is made in the image of God with inherent dignity. This means the lives of Muslim refugees are worth protecting. Jesus' overarching command was to love our neighbors, and he made clear when he cast a theologically errant Samaritan as his model of neighborly love in a well-known parable that we cannot define "neighbor" narrowly to exclude those who do not share our faith. Given an impressive history of careful vetting — since 1980, more than 3 million refugees have entered the U.S., but not one has ever taken an American life in a terrorist attack — I'm confident that our nation can be both compassionate and secure.
Mana, who grew up in a culturally Muslim family in Tehran but became an evangelical Christian as an adult and was caught hosting an illegal house church, was one of 1,734 Iranian Christian refugees to be admitted to the U.S. in 2015. In 2016, 2,263 Christian refugees from Iran were welcomed to the U.S. In 2018, thus far, only two Iranian Christians have been allowed to the U.S. as refugees.
Over the past decade, most of the roughly 29,000 Iranian refugees admitted to the U.S. have been Christians; just six percent have been Muslim. Some of these Christians, like Mana, are converts to the faith; many others were born into historic Assyrian and Armenian Christian traditions which have existed in Persia for millennia, but which now face threats of persecution at the hands of the Iranian government. As refugee resettlement from the region has slowed nearly to a halt, though, these persecuted Christians have almost no hope of finding refuge in the U.S. In fact, scores who were preliminarily approved to be resettled to the U.S. made it as far as Austria, but their cases have now been denied by the U.S. Department of Homeland Security without any specific reason cited. They have been stranded — and the risks if they are forced back to Iran are even greater now than before they fled.
While mainstream media coverage of refugees has tended to focus on Muslim refugees fleeing the Middle East, there have actually been more Christians among the roughly 650,000 refugees admitted to the U.S. over the past decade than those of any other faith. While some of these individuals were persecuted because of their political beliefs, ethnicity, or another reason allowed by U.S. law (not necessarily for their Christian faith), almost 200,000 fled countries that Open Doors USA, an organization that advocates for the persecuted church, classifies as categorized by "extreme" or "very high" levels of persecution of Christians. From an average of 19,446 Christian refugees annually over the past decade from these thirty-five countries, the U.S. is on track to accept just 3,856 persecuted Christians this year, a decline of more than eighty percent.
Refugee resettlement has slowed most dramatically from countries in the Middle East, which accounts for much of the dramatic decline among Muslim refugees. But about 1-in-3 Middle Eastern refugees allowed to the U.S. in recent years have been Christians, and they, too, are now almost entirely shut out. In 2016, 4,373 Middle Eastern Christians were able to reach the U.S. as refugees. This year, we're on track to have fewer than fifty. From Iraq — a country where the U.S. State Department says Christians face genocide — the U.S. has accepted an average of 4,375 Christian refugees annually over the past decade, but in 2018, midway through the year, just fourteen.
As he came into office President Trump pledged it would be different. In an interview, the president criticized his predecessor for making it too difficult for Syrian Christian refugees to come to the U.S. "We are going to help them," the president pledged. But while the vast majority of refugees admitted from Syria under the last administration were persecuted Muslims, at least some Christians were also able to arrive. In 2018, just six Syrian Christians have been admitted to the U.S. as refugees, compared to 121 in 2016.
American Christians must not sit silently as our government turns its back on our persecuted brothers and sisters in other parts of the world. There's hope for a restart: Secretary of State Mike Pompeo and Ambassador-at-Large for International Religious Freedom Sam Brownback, both newly confirmed, have both been outspoken advocates for persecuted Christians and other religious minorities.
Advertisement
For the sake of Mana, her son still in Iran, and tens of thousands of others, my prayer is that they and other leaders in our government will reconsider the dramatic slowdown in refugee resettlement so that our nation will once again serve as a beacon of hope for the persecuted.
Matthew Soerens is the U.S. director of church mobilization at World Relief and the coauthor of Welcoming the Stranger: Justice, Compassion and Truth in the Immigration Debate.