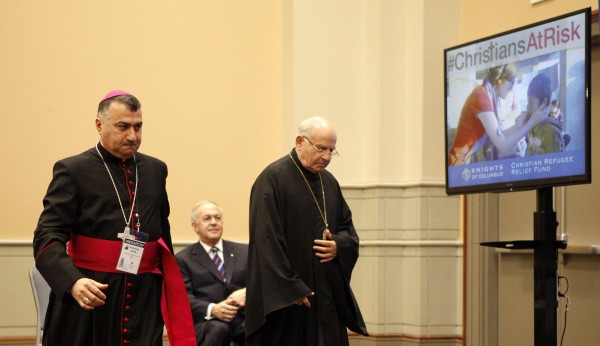 The Knights' rebuilding effort in the Middle East entailed moving hundreds of families from around Iraq back to the homes from which they were evicted by ISIS in the summer of 2014. (Michael R. Sisak/AP)
ishtartv.com - washingtonexaminer.com
By Andrea Picciotti-Bayer, August 04, 2018
Most people know that Christians in the Middle East have recently endured severe persecution at the hands of ISIS. But most people don't know that, for years, a brotherhood of men have been quietly and vigilantly working behind the scenes on behalf of those Christians. These men are the Knights of Columbus, the largest Catholic fraternal organization in the world.
The Knights were among the principle organizations to shed light on the gruesome realities of life for Middle Eastern Christians and have effectively led efforts to come to their aid.
In March of 2016, they produced a nearly 300-page report documenting ISIS' atrocities against Christians and other religious minorities. The report details how ISIS has executed thousands of Christians by crucifixions and beheadings and engaged in mass deportations of Christians from their ancestral homelands. Over 140,000 signatures supported the Knights' petition calling for a formal declaration of the genocide based on the findings of the report. These efforts were decisive in the decision of former U.S. Secretary of State John Kerry to declare as genocide the treatment of Christians and other religious minorities in the region, a designation reaffirmed by the current administration.
The Knights have most recently encouraged the U.S. government to more effectively direct relief funds to those communities in need. The Knights saw firsthand that U.N. relief efforts were not adequately aiding genocide-targeted areas and urged that persecuted Christians not be overlooked. The current administration's redirection of U.S. relief aid through USAID came in no small part because of the Knights.
The group has also become a key source of support and on-the-ground relief as well, having launched in 2014 the Knights of Columbus Christian Refugee Relief Fund, which has committed more than $17 million to aid persecuted Christians in Iraq, Syria, and the surrounding region. One hundred percent of all donations to the fund directly benefit persecuted Christians and those in their care, especially in the Middle East; not one penny is spent on operating and administration costs.
This fund is an impressive response to such a devastating reality. In Iraq alone, it has enabled food programs, new housing construction and rental assistance for those displaced, and the resettlement of the entire town of Karamles, a project that exemplifies the Knight's long-standing tradition of caring for vulnerable families.