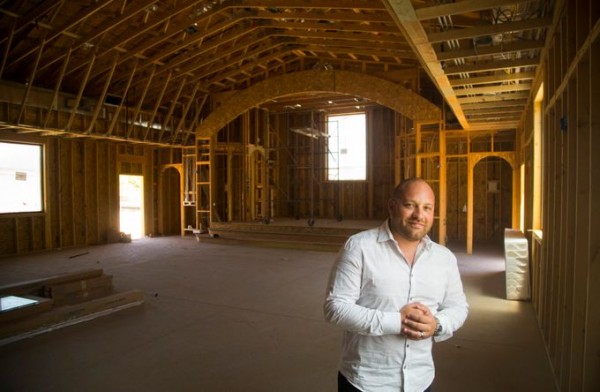 Ephrem Jando, Assyrian Church of the East project manager, stands inside the future Assyrian Church of the East in Gilbert on May 31, 2018. Patrick Breen/The Republic
Grace Palmieri, Aug. 18, 2018
Ephrem Jando pulled into the gravel lot just like he had almost every day since the church started going up. The bare frame looked like just another construction project to passersby, but to him it was a 13-year-old dream.
He walked into the empty building with his wife, Rina Akajan, and his sister, Mary. It was hardly a building — straw-colored wooden beams stood where walls soon would, and a pair of broad archways separated one room from the next.
Ephrem gestured to a wall just inside the entrance. It would be built of brick, he said, and covered with a painted image of their saint, Mar Yosip Khnanisho. To the left of the main archway would be the worship center, holding 272 people. To the right would be a community center, for the city of Gilbert.
Rina stood in the center of the vacant building, seeing it for what it would become.
"It already looks amazing," she said.
"The inside of Assyrian churches are very pretty, very detailed," Mary said.
Like a cathedral, Ephrem said.
"You can feel it in here," Rina said. "You know?"
They could feel the culmination of a project three years in the making. Ephrem has always had a vision for what the church would be. But that wasn't the case for much of the Assyrian community here in Phoenix. For all they knew, the church, which they'd tried and failed to bring to life two times before, would fail again.
Thirteen years ago the small Assyrian community of the East Valley was formed. They were tired of commuting to Arizona's only other Assyrian church in Glendale, an hour away. So they began to worship closer to home.
But for all these years, they've had no church of their own. They rented space at Burke Elementary, worshipping inside the school's gymnasium. Then at the Seventh Day Adventist Church in Chandler, where they've gathered every Sunday morning while the church is built.
The East Valley Assyrian community still only has about 100 members.
"This is history being made right here for our community," Rina said.
As Rina and Mary left, walking onto the unfinished gravel lot, Ephrem was still inside: talking to the contractors, making sure every detail was right.
He had a vision for what this church could be, and this time it was going to work.
'We're building our home'
Twice before, the idea of an East Valley church never became more than just that — an idea.
"It's a dream everyone wanted, but it was hard to achieve," Ephrem said.
With such a small community, it was never financially feasible. They didn't have the money or the resources.
There are about 400,000 Assyrians living in the United States. The largest communities are in Chicago; Detroit; California cities, like Modesto where Rina grew up; and now in Phoenix.
"It's a dream everyone wanted, but it was hard to achieve."
Ephrem Jando, Assyrian Church of the East project manager
Rina, like many other Assyrian Christians, was born in Iraq. She lived there during the Iran-Iraq War. She remembers that as a young girl when bombs went off, she and her sisters would hide under a table to shield themselves. Rina, like many other Assyrians, fled Iraq and settled in other countries for a better life.
Her parents brought them to the United States.
"My parents took us out of there when I was three years old," she recalled. "When we later saw those images (of the war), me and my sisters, we just cried. We were like, 'Wow if it wasn't for our parents, that could've been us.'"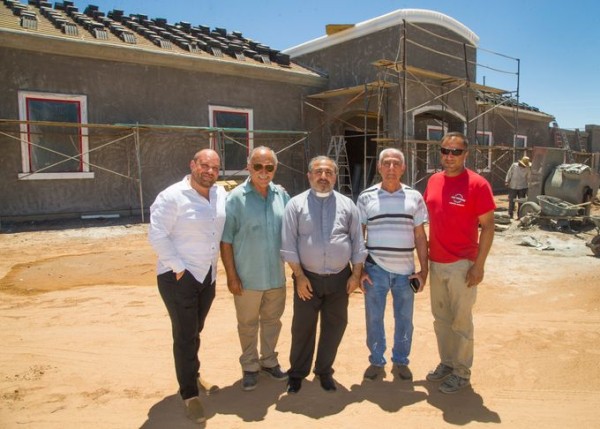 Ephrem Jando (left to right), project manager; Odisho Dinkha, contractor; Rev. Kohshaba Sholimun; Albert Sangar, Church Building Committee member; and William Dinkha, contractor supervisor, stand outside the ongoing construction at the Assyrian Church of the East in Gilbert on May 31, 2018. Patrick Breen/The Republic