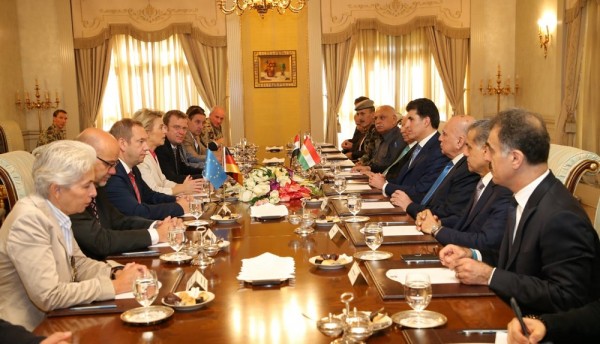 ishtartv.com - NRT/
SULAIMANI — Kurdistan Regional Government (KRG) Prime Minister Nechirvan Barzani met with German Defense Minister Ursula von der Leyen in Erbil on Monday (September 17).
Barzani received a German delegation headed by von der Leyen, who praised the role played by the Peshmerga forces in the fight against Islamic State (ISIS) militants, according to a KRG statement.
The KRG said the German delegation wanted to hear about the desires and the needs of the Kurdistan Region in detail.
The situation of the internally displaced people (IDPs) and Syrian refugees who have settled in the Kurdistan Region was also discussed during the meeting, the statement said.
The German delegation stressed on their continuous assistance for IDPs and Syrian refugees, saying they wanted to hear about the needs of those populations and the KRG's future plans about how to care for them.
Tens of thousands of Iraqis and Syrians left their homes after ISIS militants overran large swathes of Iraq and Syria in 2014.
KRG Coordinator for International Advocacy Dindar Zebari said in June that 242,000 Syrian refugees and 1.1 million Iraqi displaced people including Ezidis, Christians, Kakai, and Shabaks had been settled in the region.
The KRG Premier hoped that the meeting would lead to an extension of Germany's military training programs in the Kurdistan Region as ISIS cells still threaten parts of the country, according to the statement.
The two sides also discussed the upcoming parliamentary election and the process of reform in the Kurdistan Region.