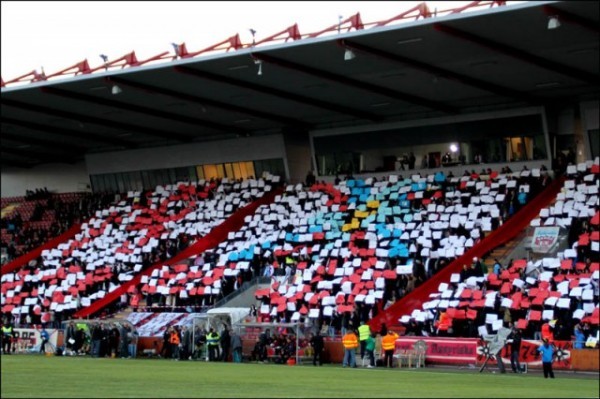 The nation

It's always hard to look ahead after a difficult period, but that is what our two Swedish football clubs must do this week. Ishtar TV previews what's coming for Syrianska FC and Assyriska FF.





Södertälje

- Assyriska is coming off an embarrassing early exit from the Swedish Cup as they were defeated 0 - 1 by the smaller IFK Lulea in the second round last Wednesday, April 20. Assyriska was hoping to join Syrianska in the next round, who has automatically reached the third round. Now, the team must focus on the Superettan league, as they visit Osters IF on Sunday, April 24, 7:00 Swedish time. The team has started the season on a good note with two wins against the mighty Hammarby and GIF Sundsvall, and now sits tied at the top of the league with 6 points. The team hopes to get back Andi Toompuu and Stefan Batan who missed the last match due to injuries.

The Assyrian warriors, march!

Meanwhile, Syrianska will try to rebound after being dismantled 1 - 5 in its last Allsvenskan league match against Hacken. The team now faces a more difficult task as they gear up against the undefeated Helsingborgs IF at Olympia Stadium tomorrow. The last time these two teams met was in the quarterfinals of the 2009 Cup where HIF eliminated Syrianska by a final score of 3 - 1. "We will do whatever it takes and fight until the end of the match" said Ahmet Ozdemirok. That kind of attitude is needed as the team will try to lock its first win of the season.

That's not the only game this week for Syrianska. The team will come back home on Monday, April 25, and face another up and coming team, AIK Solna.



Allsvenskan Table





Hemma
Borta
Team

Played

GD


Points

S
V
O
F
GM-IM
D
P
S
V
O
F
GM-IM
D
P
Malmö FF

4

6

12

2
2
0
0
4-1
3
6
2
2
0
0
5-2
3
6
GAIS

4

5

9

2
2
0
0
6-1
5
6
2
1
0
1
2-2
0
3
IFK Norrköping FK

4

3

9

2
2
0
0
4-0
4
6
2
1
0
1
2-3
-1
3
Helsingborgs IF

3

3

9

1
1
0
0
1-0
1
3
2
2
0
0
3-1
2
6
Örebro

4

2

9

2
1
0
1
3-3
0
3
2
2
0
0
3-1
2
6
AIK

4

5

8

2
2
0
0
5-0
5
6
2
0
2
0
2-2
0
2
Gefle IF FF

4

2

7

2
1
0
1
3-2
1
3
2
1
1
0
4-3
1
4
Kalmar FF

4

1

7

2
2
0
0
5-3
2
6
2
0
1
1
0-1
-1
1
BK Häcken

4

4

6

2
1
0
1
4-3
1
3
2
1
0
1
6-3
3
3
IF Elfsborg

4

-1

4

2
1
1
0
4-3
1
4
2
0
0
2
1-3
-2
0
Mjällby AIF

4

-4

3

2
1
0
1
1-1
0
3
2
0
0
2
0-4
-4
0
Trelleborgs FF

4

-6

3

2
0
0
2
3-6
-3
0
2
1
0
1
2-5
-3
3
Djurgården

4

-3

1

2
0
1
1
0-1
-1
1
2
0
0
2
3-5
-2
0
Syrianska FC

3

-5

1

2
0
1
1
2-6
-4
1
1
0
0
1
0-1
-1
0
Halmstads BK

4

-6

1

2
0
1
1
0-2
-2
1
2
0
0
2
1-5
-4
0
IFK Göteborg

4

-6

0