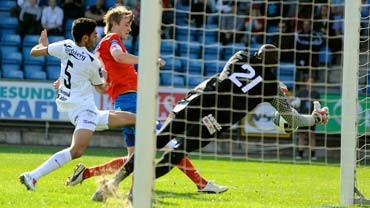 The late goal

Ishtar TV





Södertälje

- Assyriska and Syrianska came into the week with high hopes of changing their team spirit after devastating loses in the previous week. Syrianska first played top-seeded Helsingborgs, losing 0 - 1 on April 22. The team was only 8 minutes away from a point, as they tried a new formation with Ivan Ristic in the starting lineup for the first time this season, and Touma slotting in at right midfield joining Barsom, Elia and Saleh. Syrianska kept up with the game tempo, but striker Rasmus Jönsson

finally broke through and scored in the 82nd minute from a corner kick. Watch the match highlights:





In their second game of the week, the team came up against AIK on April 25. The match however was suspended in the 20th minute. It began when Felic scored with a header in the 20th minute and Ibrahim Bangura was shown a red card in following minute for stomping on Syrianska's goalkeeper. That led to a linesman being hit by a firecracker thrown by visiting AIK fans, forcing the referees to halt the match. No word yet on when the match will resume. The team is now ranked dead last in Allsvenska.




Assyriska hosted Osters on April 24 with 2,600 fans filling the stadium. The team pressured the visiting side throughout the match as they were dominate in ball possession, but couldn't pass though the Osters' wall of defense. The match ended in a 0 - 0 draw and Assyriska now sits third in the Superettan league.