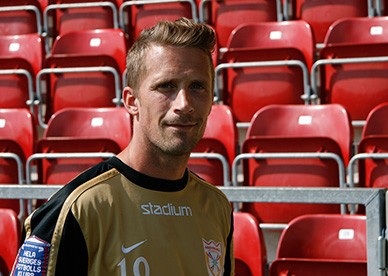 Ishtar TV
Södertälje - Flying high, Assyriska sees itself in a once familiar position this year: top of the Superettan league. The team is coming off from a yet another spectacular victory, this time against Bois last Friday on 6/5/2011. The team was down 1 – 2 in the second half, but scored two quick goals in a span of five minutes by Besara and Konwea, cementing the 3 -2 victory. The Assyriska forward Goran Marklund sat down with assyriska.se and talked about the current situation of the team:
When asked about Assyriska's last game, Goran said "despite winning, we played mediocre offensively but a better defensive performance. We didn't play up to our level."
In response to the team's excellent performance this year, Goran explained "we're a better team. From previous successful years, we know obtain the mental power or knowledge. During those glory years with Assyriska I have possessed a high maximum level but also a very low minimum. That's what we have improved on this year. If we're bad for 60 minutes, we know can change for the good for the last 30 minutes of the match. We will not give up. Also having the same coach and from last season helps and the players who know what Richard wants. It is clearer and easier to play football when things come naturally."
The team has a 3 point lead over anybody else and will face off Ljungskile on 15/5/2011. "It's always tough to face Ljungskile" said Goran. "It is a hard working team and defensively very strong. If we just do our thing for 90 minutes so we won't have to worry thou. We will have to create enough chances to win the match."
In Syrianska news, the team was ''awarded' its first victory this season when the Swedish Football Association ruled against AIK's team and fans. The match between Syrianska and AIK on 25/4/2011 was stopped in the 20th minute after an AIK player stepped over Syrianska's goalie, leading to a red card. Subsequently, AIK fans began to throw objects into the field, hitting one of the referees. The SFA gave Syrianska a 3 - 0 win and penalized AIK with a 150,000 Kronor fine.

Syrianska tied Malmo 0 - 0 last Sunday and now sits with 5 points. The team will gear up against GAIS Gotenberg this Sunday.