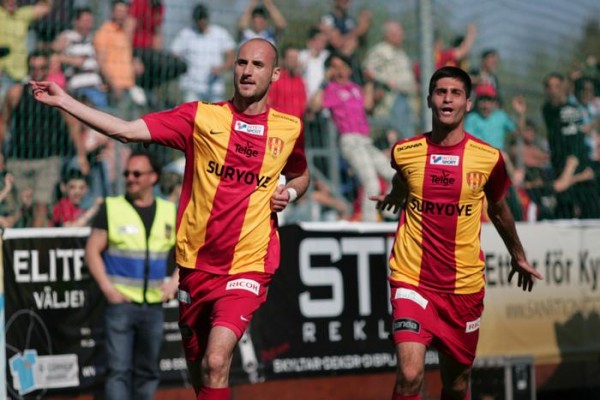 Foroyaa Online





Södertälje

- Omar Jawo's Syrianska FC leaped a little above the relegation zone with a convincing 3-0 victory over Norrkoping in the weekend.

Syrianska FC made a poor start in the league managing only a single win to their credit, conceding five league game losses with two draws in nine consecutive matches. But the promoted side made a big leap in the standings courtesy of a convincing 3-0 routing of Norrkoping yesterday evening.

Jawo, who has earned a regular starting role for his new side, was as usual part of Syrianska's defense set-up that made a laboroious work to keep Norrkoping's strikers at bay.

Results stood at 0-0 at first-half, but five minutes from break, the Red and Yellow [Syrianska FC] spurred into the lead via a Sharbel Tourma's effort that beat the goalkeeper to bury the opener to the back of the net.

Eleven minutes later, it was obvious Jawo's side were on road to a rare resounding win as Yussuf Saleh bagged in the second goal following a good combination with Dinko.

Zatara poked in the third in the 71st minute to wrap up an exceptional home victory over tenth-place Norrkoping. The win shoots them to thirteen positions in the sixteen-team-table after initially sitting second place.

A step below the first division, Mohammed Mbye's Assyriska still lead on 16 points despite a shock 3-0 thumping in the hands of Brage, leading Atvidaberg who are second by a single point.

Alieu Jagne's Sundsvall closed in on leaders Assyriska with an eye to squeeze into the top three promotion spots with a 4-0 win over bottom place Qviding yesterday.