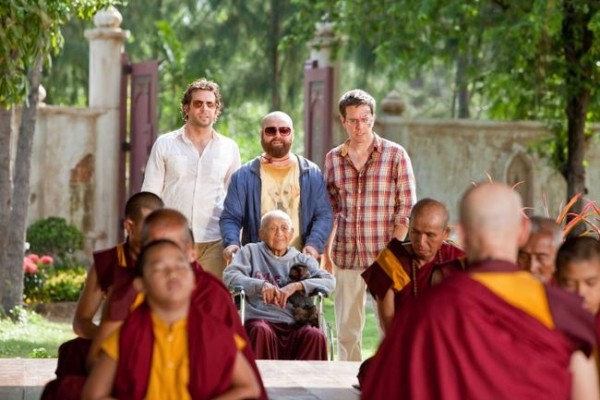 Toronto Sun

HOLLYWOOD - Seems like yesterday that everybody was going around proclaiming the end of movie-going as we knew it.
Week after week, attendance was dropping off from over the previous year and that once-prized demographic known as the young adult male was all but disappearing off the ticket-buying radar.
Boo-hoo.
Turns out it was nothing a U.S. Memorial Day weekend couldn't fix.
By the time the smoke cleared, the record books were being rewritten to the tune of some $280 million collected over the Friday-to-Monday period, blowing away the $255 million spent in pre-Recession 2007.
And it's not just in North America that business is once again booming -- Hollywood's overseas numbers are even more impressive, with Pirates of the Caribbean: On Stranger Tides leading the charge.
To date the fourth film in the franchise has collected a global booty (love the sound of that) that has just topped the $650 million mark.
With their own tide turning, the studios down here are in such a state of euphoria that they're suddenly sounding confident about closing that lingering double-digit drop in 2011 business by the summer's end.
Of course, this being Hollywood, we suspected the rebound means we haven't seen the last of Cap'n Jack and the Wolf Pack -- and guess what?
Although Johnny Depp has not yet signed on, Disney has a script in place for the fifth Pirates excursion.
Should Depp give the thumbs up, it's a done deal, but he's already got a shipload of commitments in his sights, including remakes of The Thin Man (with On Stranger Tides director Rob Marshall), Dark Shadows (with Tim Burton) and The Lone Ranger, in which he'd play Tonto.
As for a Hangover Part III, although Warner Bros. hasn't officially given the green light, director Todd Phillips confirms he's already got a third one in mind, but has not yet settled on a locale.
We hear Amsterdam is high among the places being floated, but how about a Canadian destination for a change?
St. John's could sure show them a good time. Heck, even Cornwall could offer the Wolf Pack an experience they'd never forget.
But we digress. Getting back to the spectre of a Summer '11 redux -- with Fast Five getting the season off to a promising start (over half a billion dollars worldwide and still counting), it should come as no surprise that a sixth installment with the same leads is in the works for a 2013 release.
And, yes, Chris Hemsworth will be coming back for more Thor (the first one has nabbed a mighty $411 million to date) -- and not just for his reprise in next year's The Avengers.
If all this sequel stuff is getting a bit dispiriting, at least we can all take some comfort in one thing:
There aren't any Katherine Heigl titles among them. So far.