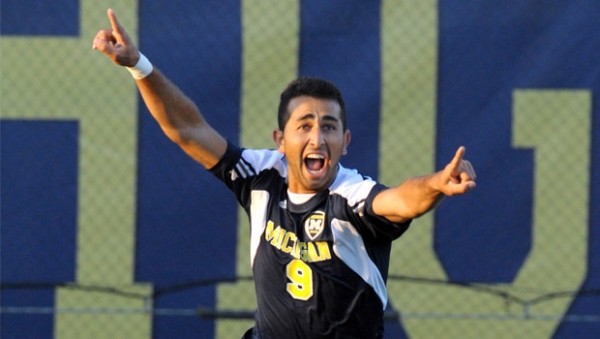 Note: Justin Meram is the first Chaldean football player to join the Major League Soccer; America's top soccer division. He is currently playing for the Columbus Crew.
The Dispatch
Columbus -
Crew rookie Justin Meram was born and raised in the Detroit suburbs, but he has one of the most unusual ethnic backgrounds in a pro league heavy on international flavor.
His parents, born in Iraq, are Chaldean Catholics who immigrated to the U.S. as teenagers and met in the Detroit area, home to an estimated 70,000 to 80,000 Chaldeans.
Meram said he is the first Chaldean-American athlete to reach the pro level in any sport.
"It's an honor," he said. "I'm not that big on it, but I think my parents are pretty proud. My dad loves it."
Meram's dad probably has been especially proud the past few weeks. Meram, the No. 15 overall pick in the MLS draft in January, made his league debut on May 28 when he came off the bench in a 3-3 tie with Chivas USA.
He followed with another second-half appearance eight days ago at New York, where he made a penetrating run and cross and earned his first assist on a goal by fellow rookie Rich Balchan that gave the Crew a 1-1 tie in the final minute of stoppage time.
On Wednesday, he entered in the 46th minute against Real Salt Lake and drew a penalty kick that spurred the Crew to a 2-1 victory.
"It seems like I've always gotten the short end of the stick sometimes," Meram said. "It's nice to prove some people wrong."
Meram's parents now live in Arizona. He joined them there after completing high school in Shelby Township, Mich.
He was a standout football kicker and punter at Utica Eisenhower High School and was considering walking on to play football at Arizona State but instead pursued soccer at Yavapai College, a junior college in Prescott, Ariz.
"Nobody wanted me to play (college) soccer, and that was tough," Meram said. "I quit the game for a little bit and was going to play football. But Yavapai gave me a shot."
Good thing. Meram was named a two-time junior-college player of the year at Yavapai and moved on to the University of Michigan, where he scored 24 goals in two seasons. He dabbled in football in Ann Arbor, where current New England Patriots punter Zoltan Mesko helped him get a tryout.
Meram made 6 of 7 fieldgoal attempts in the 2010 spring game and was in uniform for the season opener against Connecticut.But he decided to focus on soccer when it became obvious that he could not continue to play both sports last fall.
Although Meram was named second team all-Big Ten in back-to-back seasons, his future was in doubt as late as last summer, when he was cut from two Premier Development League teams and was reduced to playing with a German team in a local men's league.
"Those guys were out there drinking on the sidelines," Meram said. "I shouldn't have been there."
The Crew (4-3-6) wasn't deterred. The team liked Meram enough to trade Steven Lenhart to San Jose for the first-round pick it used to take Meram.
Coach Robert Warzycha has liked what he has seen.
Meram came off the bench in two Champions League games against Real Salt Lake before the MLS season. A spate of injuries, combined with Meram's recent performances, might earn the 22-year-old his first start today against Chicago (1-4-8), perhaps on the left wing or at forward.
"More than anything, he is maturing," Warzycha said. "His game is coming around. He's not losing the ball and he is seeing his teammates, and that is the difference.
"He used to go by himself and dribble and lose the ball. Now, he is responsible."