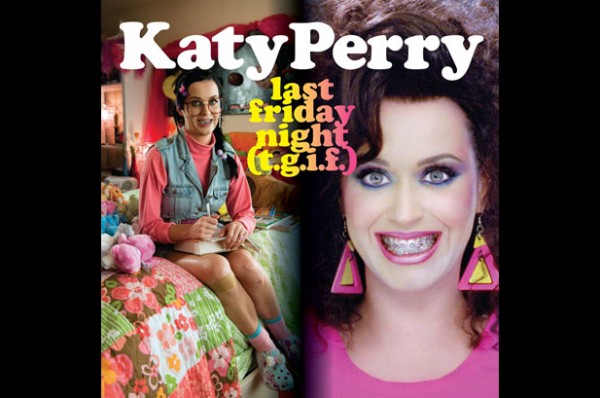 Billboard - Ladies week - 4 of the top 6 songs in America were held by women in this week's Billboard 100. "Deep" spends a fourth week atop Radio Songs (153 million in audience, up 1%, according to Nielsen BDS). The multi-format juggernaut concurrently lifts 2-1 on Adult Contemporary. With it having previously reached No. 1 on the Triple A, Adult Pop Songs and Pop Songs airplay charts, "Deep" is just the second song to have commanded all four radio rankings, following Jason Mraz's "I'm Yours" (2008-09). "Deep" darts 79-66 on R&B/Hip-Hop Songs (2.3 million in audience, up 40%) and even crosses over to the Latin Pop Songs airplay chart (No. 33).
On Digital Songs, "Deep" drops, however, 1-5 after six frames on top (188,000 downloads sold, down 16%, according to Nielsen SoundScan).
Replacing "Deep" at the Digital Songs summit, Perry's "Friday" blasts 28-1 (235,000, up 259%). The song soars following the June 13 premiere of its star-studded video, whose guests include Rebecca Black, Hanson, Corey Feldman, Kenny G and Debbie Gibson. The clip has already netted 28.6 million YouTube views.
LMFAO's "Party Rock Anthem," featuring Lauren Bennett and GoonRock, remains at No. 3 with Airplay Gainer honors for a second week. The track pushes 9-6 on Radio Songs (85 million, up 254%). On Digital Songs, it advances 3-2 (209,000, up 10%).
Perry's "E.T." dips 4-5 on the Hot 100. With "Friday" one spot above, Perry is the first artist this year to place two titles in the top five simultaneously as a lead act.
Lady Gaga's "The Edge of Glory" - featuring a sax solo from the late Clarence Clemons - bullets at No. 6 for a second consecutive week on the Hot 100.
The rest of the top 10:

| | | |
| --- | --- | --- |
| 1. | Adele | Rolling on the deep |
| 2. | Pitbull | Give me everything |
| 3. | LMFAO | Party rock anthem |
| 4. | Katy Perry | Last Friday night |
| 5. | Katy Perry | E.T. |
| 6. | Lady Gaga | The edge of glory |
| 7. | Jason Aldean | Dirt road anthem |
| 8. | Nicki Minaj | Super Bass |
| 9. | Bruno Mars | The lazy song |
| 10. | Lupe Fiasco | The show goes on |