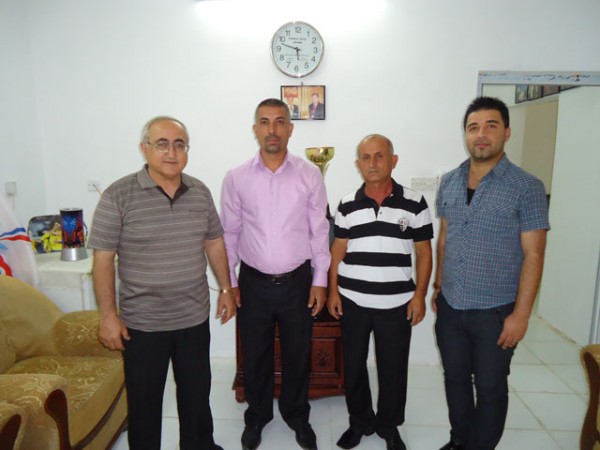 The committe of the club.
Ur Sports Club (USC) was established on 26/04/2008 through the financial support of Sarkis Aghajan. It is located in the Assyrian village of Sheuz near the city of Duhok. The club serves as the home sports center for the villages of Sheuz, Mar Yaqu and Ma'althaye.
Its managerial board currently comprises of:
- Ghassan Isaac Gewargis, Head of the Club
- Ablahad Hurmez Yaqu, Deputy Head of the Club
- Jalal Luis Jajo, Finance Manager

- Atheer Sameer Yousif, Secretary of the Club
The club has many teams such as women's basketball team, men's basketball team, adult and youth football teams, ping pong and billiards.
While the club is still relatively young, it has shrived in a few areas of competition:

- On 18/07/2008, the club's billiard player Rami A. Yousif participation in tournament in Sheuz where he came second.

- In the Al-Ikha's first championship tournament, the woman's basketball team finished second.
- On 12/12/2009 the men's football team participated in the Pentathlon Competition in Sumeil where the team came fifth.

- On 11/03/2009, the men's football team took part in the Nawroz & Adhar Festival Tournament in Sumeil organized by the Youth and Student Union in Sumeil, where the team came second.
- On 13/08/2009, the club represented the District of Sumeil in a woman's basketball championship that was organized by the Olympic Committee in Duhok where the team placed first.
- On 11/08/2010, a basketball tournament organized by the club was held in the Church of Mar Gewargis. The club came second.
- On 26/11/2010, the club organized a tournament in honor and commemoration of the 58 martyrs in the Our Lady of Salvation Church siege in Baghdad where the team finished first.
- On 15/02/2010, the youth wing of the club participated in the Coca Cola tournament held in the city of Duhok, where the team came second.
- On 09/05/2011, the club's ping pong player Hikmat H. Yousif participated in a tournament in the Sumeil Youth Center where he came third.