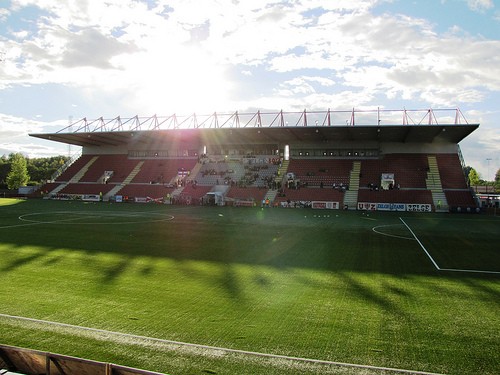 Sodertalje Stadium
Ishtar TV | By Nahro Farid


Sto
ckholm

- It is the final week in Swedish football, and many Assyrian teams are gearing up for important matches.

Syrianska have found themselves in hot waters as the fight for survival heats up in Sweden's top soccer league, Allsvenska.


To prepare for their final match, the team announced this week the signing of Sierra Leone Striker Mohammad Kabia, who already has 16 caps and 8 goals on the national level despite being only 22 years old.


After losing 1 - 0 to Malmo on Tuesday, the team will likely finish third from the bottom in the league, forcing them to play a home and away relegation match on October 26 and 30.

They will play the third-place team from the second division, Superettan. That could be either Sundsvall or Angelholm, depending on their final-match outcome.

Assyriska finds itself in a similar situation. With the final match remaining, the team is eleventh, outside of automatic relegation, but still might have to face a relegation play-off match.

Assyriska's final match is against last placed Qviding. With a win, they will secure a spot in the 2012 Superttan.



The Standings:




Allsvenskan (first level)



| | | | | | |
| --- | --- | --- | --- | --- | --- |
| | Team | Pts. | GD | GR | Qual. or Rele. |
| 13. | IFK Norrkoping | 34 | -14 | 1 | |
| 14. | Syrianska | 28 | -15 | 1 | Relegation playoffs |
| 15. | Trelleborg | 25 | -22 | 1 | Relegated to Superettan |
| 16. | Hlamstad | 14 | -23 | 1 | Relegated to Superettan |
Superettan (second level)
| | | | | | |
| --- | --- | --- | --- | --- | --- |
| | Team | Pts. | GD | GR | Qual. or Rele. |
| 9. | Landskrona BoIS | 40 | -3 | 1 | |
| 10. | IFK Varnamo | 39 | -4 | 1 | |
| 11. | Assyriska FF | 38 | -7 | 1 | |
| 12. | Hammarby | 37 | -4 | 1 | |
| 13. | Jonkopings Sodra | 37 | -10 | 1 | Relegation Playoffs |
| 14. | IK Brage | 30 | -20 | 1 | Relegation Playoffs |
| 15. | Vasteras SK | 27 | -27 | 1 | Relegated to Division 1 |
| 16. | Qviding FIF | 11 | -41 | 1 | Relegated to Division 1 |
Division 1 North (third level)
| | | | | | |
| --- | --- | --- | --- | --- | --- |
| | Team | Pts. | GD | GR | Qual. or Rele. |
| 7. | Karlstad BK | 33 | -2 | 1 | |
| 8. | Syrianska IF Kerburan | 32 | -11 | 1 | |
| 9. | IK Frej | 31 | +7 | 1 | |
| 10. | IFK Lulea | 30 | -8 | 1 | |
| 11. | Akropolis IF | 29 | -3 | 1 | |
| 12. | Valsta Syrianska | 25 | -11 | 1 | Relegated to Division 2 |
| 13. | Bedens BK FF | 20 | -21 | 1 | Relegated to Division 2 |
| 14. | Hammarby TFF | 15 | -39 | 1 | Relegated to Division 2 |

Pts. = points, GD = Goal difference, GR = Games remaining