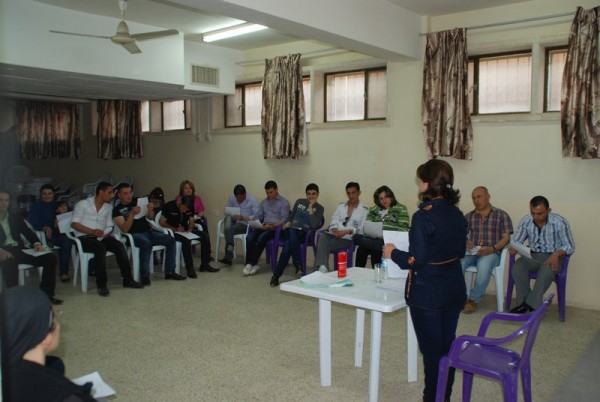 Following difficulties facing the summer courses held for catechism, and due to the large number of students and narrow space, there emerged the idea of establishing a modern centre that provides all the necessary requirements for serving catechism in Qaraqush and developing other religious and ecclesiastical activities.
The foundation stone of the house was laid down by the late Bishop Korls Mar Emmanuel Bani (Trinity Mercy Upon Him) in16/11/1995 who had knocked the doors of many ecclesiastical and charity institutions to fund the project.
Following the laying down of the architectural designs for the building, work continued to complete the building for more than four years thanks to the efforts of Fr. Sharbel Isso and those who supervised the implementation of the project.
Recently, St. Paul 's house has been able to further carry out its activities and projects through the generous support made by Mr. Sakis Aghajan.
The house was inaugurated in 29/06/2000 on the occasion of the feast of Apostles Peter and Paul, by the pastor of the parish Bishop Mar Bacelius Jarjgis Qas Mousa.
The building has three floors with a chapel, a big show hall like a two-tier amphitheatre and a capacity of 600 persons. It has 15 classrooms, 5 halls, a library, a computer lab, 5 administration rooms, and 4 guest rooms in addition to many yards.
To receive, activate, and coordinate ecclesiastical services in spiritual , cultural, social and artistic fields is the objective sought by the House as a radiant centre of cultural and civilization of our town and parish.
Salam Net Internet
In accordance with the course of action taken by the House, a special department was established for internet. Work in the centre started in 29/02/ 2006.
Mar Polus Printing Press
Work also started at the printing press as of 01/ 08/2007 to print and publish all religious, cultural, and other social publications
Activities
The House carries out the following activities:
1. Embracing all cultural, educational, and catechetical activities in the town.
a. Holding courses on catechism for the primary and secondary school stages.
b. Holding religious seminars for secondary, university, postgraduate, and other levels.
c. Holding biblical, theological, liturgical, and scientific courses that aim at serving the word of the gospel.
2. Embracing meetings on general formation and catechism and coordination of spiritual activities for sisters and congregations.
3. Embracing ecclesiastical conferences and festivals.
4. Embracing artistic, educational, and show activities such as:
a. Theatrical performances
b. Toy shows and child theatre
c. Courses on music and recitation
d. Courses on plastic art
5. Provision of audiovisual aids and various illustration means.
6. Taking care of religious media and pastoral publications
7. Taking care of the library for reading, research, documentation and education.
8. Patronage of sport activities for the formation of Christian, human, and courageous citizens.
9. Supervision and support of teaching and reinforcement courses on school subjects.
10. Holding courses on teaching various languages and on computer and internet.
11. Exchange of experience with other catechism centers inside the country and abroad.
12. Taking care of printing religious, cultural, social and dailies.
St. Pauls House for Church Services
Iraq- Nineveh- District of Hamdaniya – Qaraqush (Baghdede)
Tel: ( 00964) 362978 - 363211
Email: stpaulkarakosh@yahoo.com