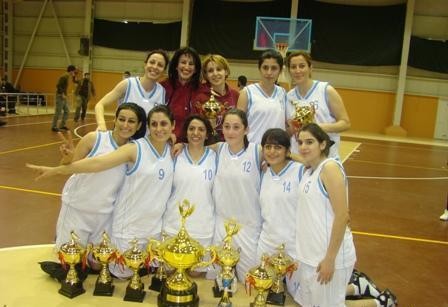 Ishtar TV | By Nahro Farid
Ankawa

- Akkad Ankawa's women's basketball team won the Iraqi Women's Basketball League on Thursday beating Sennacherib 61 - 48 in its final match on Thursday.

Winning its seventh title since 1999, the team's head coach
Ali Mohamed and assistant coach Nahla Solaqa bursed into joy as the final seconds ticked off.

Akkad Ankawa edged five other teams in the final stage of the league which was held between November 24 to 28 in Erbil.

The final match was attended by
the KRG's Minister of Youth and Culture
K
awa Mahmoud
, KRG MP and Popular Council member
Thaer Abdul-Ahad
, and the President of the Iraqi Women's Basketball League
Hussein al-Amidi.


By winning the league title, the club has secured a spot in the 2012 Asian Women's Championship League which will be held in February in UAE.

Akkad Ankawa was established in 1992 and is financially supported by a number of Iraqi notables including the Youth Ministry of the KRG as well as Sarkis Aghajan.