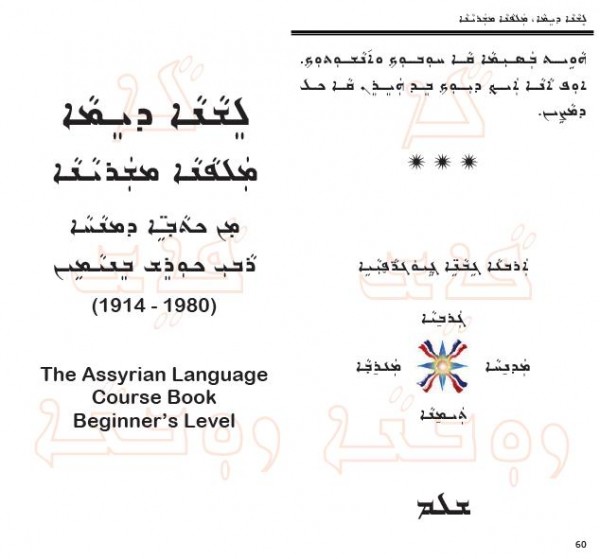 Around the world, there is a great demand for course material for teaching the Assyrian language. Some of the most popular and highly demanded Assyrian language course books are the works of the late Rabi Kourosh Benjamin.
It is now with great pleasure to present this book to students and teachers of the Assyrians language. This book covers the first three volumes of the late Rabi Kourosh Benjamin's popular course books.
We are grateful to the late Rabi's family members for granting us permission to use the contents of the mentioned course books in this volume. An electronic version of this book can be downloaded from the internet.
This book may NOT be sold; it is only to be used for educational purposes. It is our hope that our civic and church organizations around the world will produce the book and will distribute it to Assyrians in their local communities. As a man who greatly devoted his life to promoting the Assyrian language, Rabi Kourosh would have been proud to see the sons and daughters of Assyria around the world have access to his works.
Although this book is a solid introduction to the Assyrian language, additional practice is essential to gain an in-depth understanding of the material. Instructors therefore, are encouraged to give their students exercises and homework assignments as necessary.
This book is recommended to be taught to young children over the span of two academic years and to adults over 60 hours of classroom instruction.
We hope that this book will encourage the reader's further pursuit of learning the Assyrian language, our only ancestral heritage that fosters national pride.
Education Committee
Assyrian American Association of San Jose
Click here to download the PDF file of "The Assyrian Language Course Book for Beginners"