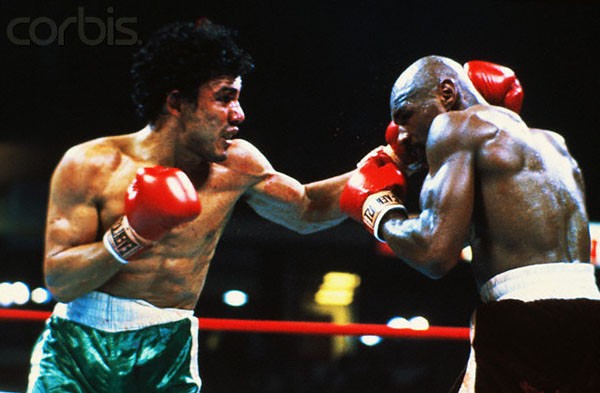 03 Oct 1981, Rosemont, Illinois, USA. Mustafa Hamsho against middleweight champion Marvin Hagler during title bout at the Rosemont Horizon stadium.
While football might be the most dominate sports within the Assyrian community, many people forget to give attention to the Assyrian people's second favorite sports - boxing!
Many Assyrian boxers from Iran, Iraq, Syria, and elsewhere have had memorable careers. One of them is Mustafa Hamsho.
Born in 1953 in Latakia, Syria, Mustafa Hamsho never won a world title, but fought some big names in his career. Though he was not a winner in all of those fights, he did some things to make every one of his fights interesting and controversial in some regard. The Assyrian Slugger racked up a winning record in the late 1970s, defeated various notable boxers. The southpaw fought in 51 matches, with a recrod of 44 wins (28 by KO), 2 draws, and 5 loses.
Here is his 1982 match with Bobby Czyz, who was 20-0 before Mustafa defeated him: