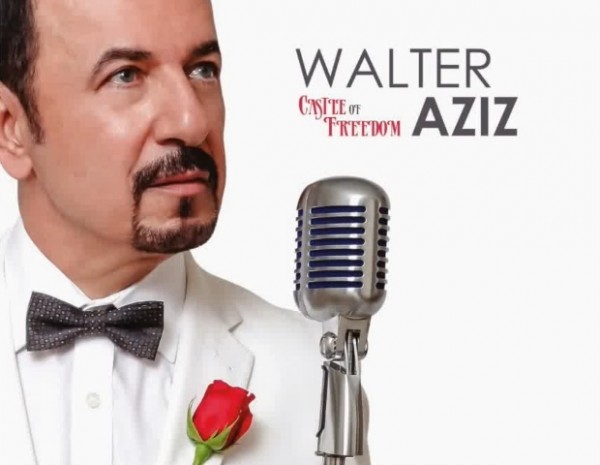 ishtartv.com- The official fan Facebook of Walter Aziz
Malikta d'Shopra d'Atourayeh is a new song for Assyrian pop music Walter Aziz, arranged by Khachik Adam, It's one of 14 new songs on QASRA D'KHEROOTA album. Available on his 2015 CD and LP record vinyl.
https://www.youtube.com/watch?v=QtPsZ2eVGU0
Who is Walter Aziz?

The modern Assyrian music is influenced depending on the environment of the artists from other music styles. Already in Iraq the British influence on music was remarkable. Many Assyrian musicians and singers adapted western style and instruments. One musician who marked many points regarding the mix of oriental and pop music is Walter Aziz.

Walter Aziz was born and grew up in the Assyrian quarter of Gailani Camp in the capital Baghdad. His father was born in Tbilis, Georgia and his mother in Urmia Iran. Both his parents fled to Baghdad, Iraq where Walter was born.
His father died when he was eight years old. Walter learned the Assyrian language at
The Qasha Khando Elementary School in Gailani Camp . At that time Walter was impressed mostly by Western music, and some church music where he performed with the church quire
In at Qasha Khando school in Baghdad Iraq.
At the age of 16 Walter migrated to Chicago, USA and lived there with his aunt. At that time he loved to hear music of The Beatles, French Algerian singer Enrico Macias and Greek singer Yanis Parios as well as Latin Music.. He started singing in Assyrian in 1973. His first record, was two single vinyl that were released in1974 when Walter was around 19 years old. These singles were produced and played by Al-Sangar Band that included known songs of Shlimun Bet-Shmuel (Orkha d-Nineveh) and Sami Yako (Hal Eman). The other two songs were his own production such as (Simeleh) written by Benyamin Malco and (Dyarty min Sapar) by Esho Yonadam.
Immediately after his first release Walter Aziz established his first band in 1975 with The Assyrian guitarist Ashoor Baba called (The Kings Band). Together they recorded and released the songs "Qamu Khleety Chertewat "and " Zmarty Khareta on 45" vinyl.
The next double-single record was produced with Walter's second band, the "Heart Beat Band" in 1976. His sister, Claudette accompanied him on duet song called (Yala Rupy Eada). With that record Walter achieved his first highlight in Assyrian music.

Walter moved to San Francisco, USA in 1977 where he released his first LP called "Milat Atoureta" in 1980. This record contained eight songs. Two years later in 1982 he released his well known LP "General Agha Potros" which he re-mastered and re-released as CD in 2008. Another album "Qismatten" was released in 1985 together with Jermaine Tamraz. He also sang a duet with Sargon Gabriel in his Album "Away" in 2001 "Qa Mani Bayat". in 2001, and a duet with Spanish singer Jaquelen Herrera. In 2005 He released the CD "AKITU" which included the hit song Akitu which waswritten by Ninos Aho and the CD also included the hit song "Ana Yadin Mani Eawin. Walters lastest album/CD is called "ASSYRIAN HOPE" which was released in 2010 it included the hit song "Dashta D' Nineveh Deyan Eala".

In 1983 and 1984 Walter wrote and composed many songs for Assyrian singer Shamiran Urshan songs like Reesha D' Sheeta, Qorbina Dana, Pletenwa bikhdara marza d' Yama and Shmeely Qala Rama

Walter Aziz is the artist who implemented the modern beats of Western Pop Music to the Assyrian music. He was the first Assyrian singer who used the CD format for his Album "Riqda d-Khuyada" and was the also the first offering his songs on internet stores (like iTunes and CD Baby). He also was the first Assyrian artist in 1996 to have a website www.walteraziz.com. Walter's goal was always trying to import Assyrian music and take it to the world.

The highlight of Walter Aziz's musical career was his two outstanding performances at The Mesopotamian Night 2008 and 2010 concerts which were produced by The Assyrian Aid Society of America. In 2008 he performed with 25 piece orchestra band, and in 2010 he performed with 48 piece symphony orchestra lead and conducted by well known conductor Mr. John Kendall Baily.

At the Syriac Music Award ceremony for 2010, Walter Aziz received awards in the categories of Best Song for "Dashta D' Nineveh Deyan Eala" and Best Male Artist. In 1983 and 1984 Walter wrote and composed many songs for Assyrian singer Shamiran Urshan songs like Reesha D' Sheeta, Qorbina Dana, Pletenwa bikhdara marza d' Yama and Shmeely Qala Rama.
Walter Aziz has produced 16 Albums which contains 130 songs and as many as 12 music video clips.