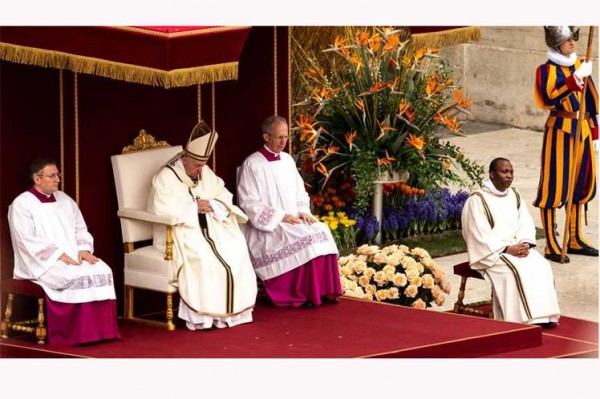 Vatican City, Apr 21 (Prensa Latina) Pope Francis asked for peace and that ''the light of Easter enlightens goverments and nations of the Middle East and the rest of the world, in the search for a future of peace and stability, starting with Israel and Palestine.
In his message and blessing on Easter Sunday, the Holy Father pointed out that Christians in the region should not stop 'giving a testimony of the revived Jesus Christ with their perseverance, and a testimony of the victory of life over death.'

'I give a special mention for the people of Yemen, their children, suffering because of hunger and war,' he underscores.

'May the light of Easter illuminate all leaders and nations of the Middle East, beginning with the Israelis and Palestinians, and encourage them to alleviate so much suffering and to seek a future of peace and stability,' he said.

Instead, he said, it is time to renew the commitment in favor of a political solution that responds to the just aspirations of freedom, peace and justice, addresses the humanitarian crisis and promotes the safe return of displaced persons.

Francis also asked warring factions to stop bloodshed Libya and 'May Christ life give peace to all the beloved African continent, still full of social tensions, conflicts and, sometimes, violent extremism that generate insecurity, destruction and death.'

In this regard, he mentioned Burkina Faso, Mali, Niger, Nigeria, Cameroon and Sudan.

The Pope referred with the same hopes of peace to other countries such as Ukraine, Venezuela and Nicaragua.

He cried for Jesus Christ, 'the Risen One', 'to open our hearts to the needs of the needy, the defenseless, the poor, the unemployed, the marginalized, those who knock on our door in search of bread, a refuge or recognition of their dignity.