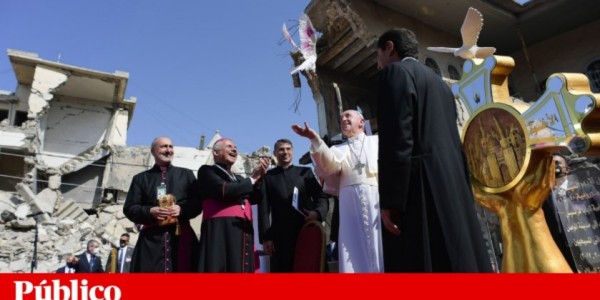 Ishtartv.com - valleybugler.com
On the first trip of a Catholic Church leader to Iraq today, Pope Francis began his visit to Mosul, ancient Nineveh mentioned in the Bible, with a prayer in the Square of the Four Churches, Hosh al-Bieaa. In addition to the Syrian Catholic, Armenian Orthodox, Syrian Orthodox and Chaldean churches that were destroyed by terrorist attacks between 2014 and 2017, the High Pope heard from a local priest and a Sunni the report about the atrocities, the losses and the people being forced were to flee.
"The tragic reduction of the disciples of Christ here and across the Middle East is incalculable damage not only to the people and communities involved, but also to the society that left them behind," said Francisco. "A cultural and religious fabric that is so diverse is weakened by loss," he added.
"How cruel it is that this country, the cradle of civilizations, has been hit by such an inhumane storm, in which ancient places of worship have been destroyed and thousands upon thousands of people – Muslims, Christians, Yazidis and others – forcibly displaced or killed." he said. the leader of the Catholic Church.
Mosul was controlled by Daesh for several years, resulting in an exodus of half a million people from a city of 1.8 million people in 2004. Among those who left the city were 120,000 Christians.
But even amid the ruins and with the reports of tragedies in his ear, Francisco raised his tone to speak of hope after thanking the invitation: "Despite everything, today we reaffirm our conviction that brotherhood is stronger than fratricide, that hope is it Stronger than death, this peace is stronger than war. "
The Pope, who arrived at Erbil airport early in the morning, traveled by helicopter to Mosul, where the Archbishop of Mosul, inaugurated in February 2019, Monsignor Najib Moussa Michaeel, marked the symbolic return of the Catholic Church to the city in the year of expulsion of Christians 2014. The governor of Mosul, Najim al-Jibouri and two children with flowers were also waiting for Francisco.