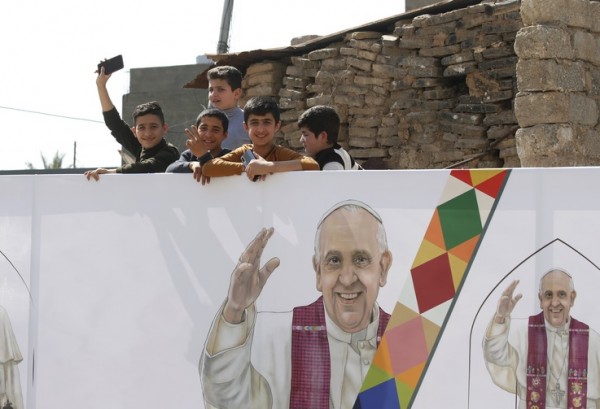 Children are seen near an image of Pope Francis during the pope's visit with the community at the Church of the Immaculate Conception in Qaraqosh, Iraq, March 7, 2021. (CNS photo/Paul Haring)
Ishtartv.com - americamagazine.org
By Gerard O'Connell, March 22, 2021
Archbishop Paul Richard Gallagher is the Secretary for Relations with States, sometimes referred to as the Vatican's foreign minister. Pope Francis appointed him to this important position in November 2014, 30 years after he first joined the Holy See's diplomatic service. During that time he served in its diplomatic missions in countries on five continents.
Archbishop Gallagher accompanied Pope Francis on his historic visit to Iraq and, some days later, gave a wide-ranging interview to America's Vatican correspondent. He responded to questions related to Iraq, Iran, Lebanon, Yemen, Syria, the Holy Land, Saudi Arabia, China and Myanmar, as well as some of the things the Holy See hopes President Joseph R. Biden's new administration might act on at the national and international level.
Pope Francis in Iraq
I began by asking Archbishop Gallagher about his overall evaluation of Pope Francis' visit to Iraq. He rated it as "overwhelmingly positive" and "possibly the most significant trip of the pontificate." Indeed, "emblematically, it expresses most of the objectives of the pontificate in terms of the wider mission and ministry of the pope."
He described Francis' meeting with Ayatollah Ali al-Sistani as "quite remarkable" and said "it seems that really these two men had an understanding, they shared much, and there were lots of gestures on the part of al-Sistani toward the pope, gestures of great respect and understanding."
He rated the meeting as "a breakthrough not just with Shia Muslims in Iraq but also with the very significant and great Shia community around the world, including in Iran." He viewed it as "equivalent" to "the meeting of Pope Francis and the Grand Imam of Al-Azhar and the signing of the document on human fraternity in Abu Dhabi on Feb. 4, 2019."
In going to Iraq, he said, Pope Francis "went to a country which almost incarnates human suffering historically at this time, after Syria and Yemen, and where you could see that on the faces of the people." His "expressing the regret and the sorrow of the world for everything that had happened in Iraq in recent decades" was very important, Archbishop Gallagher said.
He recalled that Francis expressed his "support" not only to "the Christian communities of Iraq and of the region who have been persecuted and suffered" but also to "the other persecuted communities such as the Yazidis for whom he has enormous sympathy."
The archbishop noted that Francis also highlighted "the migration crisis and the many people who have left Iraq for other parts of the world" and expressed "the hope that some might yet find their way to return to their homeland."
Embracing the Shia Muslim World
Asked whether he thought Francis' embrace of both the Sunni and the Shia Muslims through his meetings with the Grand Imam of Al-Azhar and Ayatollah al-Sistani, respectively, could contribute in some way to a resolution of the grave conflict in Yemen, Archbishop Gallagher replied: "I doubt that. Yemen is a really intractable geopolitical problem." He noted that "it's a similar case to Iraq" and recalled that "the pope was very sensitive to the fact that Iraq is caught between two mega-regional powers, between the United States, which has long-standing interests in the region, and Iran, as well as Turkey."
Likewise, he sees Yemen trapped in a wider power struggle and said: "I don't think Yemen is going to substantially improve anytime soon. Too many people and countries are interested in having geopolitical control of what Yemen represents. I think there's still an awful lot of work, an awful lot of pressure that needs to be brought to bear on that situation. So I'm not terribly optimistic about the impact [of the pope's embrace of the Sunni and Shia Muslims] on Yemen."
Religious leaders in Iran, including Ayatollah Alireza Arafi, the head of all Iranian seminaries, responded positively to the pope's visit to Iraq and meeting with Ayatollah Sistani. When asked if he thinks Pope Francis may be able to visit Iran, Archbishop Gallagher replied: "Yes, I certainly think there is this possibility. There is openness. And not just openness; there is desire. But we have to also be confident that the papal visit will benefit and strengthen the local Catholic community."

"It is a work in process," he said, "and I certainly think that would be on the cards in the future, but there are many factors to be evaluated before we can go forward."
The Vatican archbishop foresees a papal visit to Lebanon because "the pope has committed himself to doing that and I'm sure he'll keep his promise. It's just a matter of when. As yet, there are no concrete plans for the visit." Cardinal Pietro Parolin, the secretary of state, visited the country last year, and "it's probable that I may go in the coming months, and this may prepare the way for a papal visit," Archbishop Gallagher said.
Hezbollah, an Islamist militia and political party backed by Iran, praised Pope Francis' visit to Iraq, and the archbishop believes they would welcome him to Lebanon, too. "Lebanon is in a pretty desperate situation," he added. The Holy See is also "very concerned about the hemorrhaging of Christians, in particular, from Lebanon to their diaspora and elsewhere."
The Christian Exodus
The exodus of Christians from the Middle East region is a matter of grave concern, the archbishop said. "Every time we ordain a titular bishop, very many of them receive titles of old dioceses in North Africa where the church flourished for many centuries. Now the church is a very small flock in all those countries—Tunisia, Algeria, Morocco, etc.—and there is a danger that the whole of the Middle East could become a replication of that. We could have a Middle East and the Holy Land without Christians; the holy places could become more museums than true places of pilgrimage, devotion and worship."
"This is in many ways unthinkable," Archbishop Gallagher said. "At the same time it is a not unrealistic prospect unfortunately. So, we have to work on this, and we have to try and make the conditions suitable for keeping the Christians we've got and possibly inviting people, who for very reasonable motives have left the region in these years, to come back."

Moreover, he said, "We believe that Christians play a very important geopolitical role in the region, also being that rather flexible mortar which exists between massive and different contrasting communities of Islam throughout the region. We hope and we pray that that will be possible, but it will require a lot of hard work, both diplomatically and politically, and also in terms of solidarity by the wider Christian church to support and encourage Christians to stay in the biblical lands."
Saudi Arabia: A Thaw in Relations?
Saudi Arabia is one of a small number of countries that do not have diplomatic relations with the Holy See, even though King Abdullah visited Benedict XVI in 2007, and an official delegation met with Pope Francis in 2017. I asked the archbishop how he would describe the current state of relations between the Holy See and Saudi Arabia.
"It's pretty distant," he remarked. He recalled that Cardinal Jean-Louis Tauran made what many considered "a historic visit" to Saudi Arabia in April 2018 when he was president of the Pontifical Council for Interreligious Dialogue, and that office still engages in the dialogue. Beyond that, he said, "we have occasional contacts with the Saudi authorities, but at the moment there is no formal process of improving those relations, which we would like."
"It's obviously a complex situation because of the composition of the society and of the delicate relation of religion to the monarchy. Moreover, as everybody knows at this particular time Saudi Arabia is going through a lot of difficulties and questions from the international community," he said. Nevertheless, "our door is always open, and in particular because we have great concern for the large numbers of Catholics who do work in Saudi Arabia—the Filipinos, the Indians, the Sri Lankans—and therefore we would like to see greater religious freedom and freedom of assembly to be granted to them to express and live their faith, and we will continue to work at that."

Asked if he thought the document on human fraternity that Pope Francis and the Grand Imam of Al-Azhar signed in Abu Dhabi on Feb. 4, 2019, could facilitate a thaw in relations with Saudi Arabia, the archbishop responded positively.
"I think potentially yes," he said. "But like anything where you have particular interests at play you need the political will to make something work. Certainly, I think the document on human fraternity provides a platform and a new almost sort of language with which to engage people, and I think that is what the pope is trying to do."
Obviously, he said, "religion is a deep part of human experience but clearly when you get differing traditions and experiences of religion there is a potential—we know that from history and even now—of great sensitivity and potentially of contrast. I think what the pope has tried to do with the whole notion of fraternity is to go deeper into our humanity to try and find common ground with people. And, as you say, it seems to be working. It seems to have provided a nonthreatening approach, and I think potentially lots of others could come into it and maybe ultimately Saudi Arabia will be possibly one of them."
Syria: A Decade of War
I asked the archbishop if he saw any immediate solution for Syria, where the Holy See has a nuncio who is a cardinal.
"No, sadly I don't see much hope," he replied. "We try to encourage principled realism, realism in the sense there are things that we cannot change as things stand at the moment. Obviously, you cannot abandon your principles, the things that are important, the values that drive you. At the same time, after 10 years of war in Syria we have to be realistic about what we—the international community, the region—can achieve."
"We're very concerned about the extreme poverty that prevails in the country," Archbishop Gallagher said, "the fate of the young people who now after 10 years of war, [face a] lack of schooling, lack of adequate nourishment. Again you're facing a future generation that is going to be very much handicapped in nearly every sense of the word. But I don't see a miracle for Syria on the horizon, sadly."