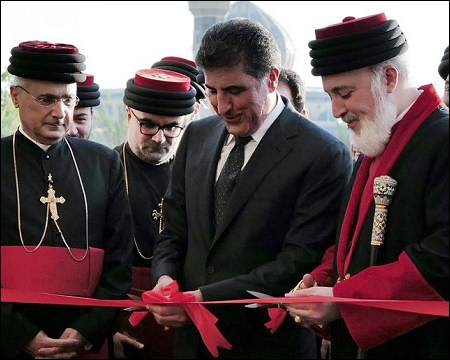 Nechirvan Barzani (C) along with Mar Awa III (R), the Catholicos-Patriarch of the Assyrian Church of the East, at the opening ceremony to inaugurate a new Catholic church in Erbil on August 5, 2023. Photo: Barzani's Press Office
August 6, 2023
HEWLÊR-Erbil, Iraqi Kurdistan region,— The president of Iraqi Kurdistan Nechirvan Barzani along with Mar Awa III, the Catholicos-Patriarch of the Assyrian Church of the East, attended a momentous ceremony to inaugurate a new catholic church, named "Nerdrawi Piroz," which translates to "New Apostle," in Erbil on Saturday, according to a statement released by the Kurdistan Presidency.
During the ceremony, speeches were delivered by both the Barzani and the Mar Awa, highlighting the significance of coexistence and mutual respect among diverse communities.
In his speech, Awa III expressed heartfelt gratitude for the steadfast support extended by the Kurdistan Regional Government (KRG) to the Christian community. He emphasized that the KRG's commitment to coexistence transcends ethnic and religious boundaries, fostering harmonious relationships among all nations as brothers and sisters.
Barzani, echoing this sentiment, underscored that coexistence is an intrinsic value deeply ingrained in Kurdish culture, regardless of nationality or faith. Barzani expressed that Kurdistan's dedication to coexistence has not only strengthened our unity but has also earned admiration worldwide.
Highlighting the region's hard-won freedom, Barzani emphasized how it has sparked a cultural and communal revival, rejuvenating all ethnic groups and religious affiliations.
"We remain resolute in nurturing and fortifying our coexistence, ensuring its continued growth," reaffirmed Barzani, resonating with the collective commitment to unity.
In July 2023, Cardinal Louis Raphaël Sako, a distinguished Iraqi Christian leader and the patriarch of Iraq's Chaldean Catholic Church fled Baghdad for Kurdistan region, denouncing Iraqi president's role in a "disgusting" campaign against him.
In the aftermath of the emergence of ISIS in 2014, numerous Christians sought refuge in Kurdistan region of Iraq. The region's towns, known for their diversity and sizable Christian populations, provided a sanctuary for these displaced individuals. The Christian community, estimated to comprise approximately 60,000 residents, found solace and security within the Kurdistan region's borders.