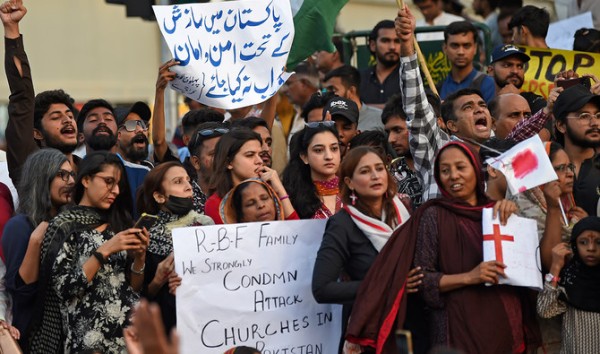 Christians hold placards during a protest in Karachi on August 19, 2023, to condemn the attacks on churches in Pakistan. (Photo courtesy: AFP)
August 20, 2023
ISLAMABAD: Pakistan's Christian community on Saturday called for a comprehensive investigation into hours of violence that erupted in Jaranwala city, situated in the eastern Punjab province, where an enraged mob targeted churches and nearly two dozen homes belonging to minority Christians over an alleged desecration of the Qur'an.
Police have already apprehended over a hundred suspects who were allegedly on the forefront of one of the most severe instances of anti-Christian violence in the country's history.
Addressing a news conference in Islamabad, however, Archbishop Dr. Joseph Arshad demanded similar action against people who burned The Bible as one taken against the supporters of an opposition party who vandalized government buildings and military installations earlier this year on May 9.
"An example should be set by conducting a thorough investigation of the Jaranwala incident and bringing the people involved to justice so that no one dares to do anything like this in the future," he emphasized.
Archbishop Arshad described the August 16 events in Jaranwala as devastating for his community members.
"The burnt down churches and the houses of the victims should be rebuilt," he said. "The government should take steps to promote religious tolerance and harmony. It needs to take serious steps in this regard."
Pakistani authorities are interrogating a large number of suspects, among them a Muslim cleric who used the loudspeaker of his mosque to urge people to come out and protest against the alleged blasphemy done by two members of the Christian community accused of desecrating the Qur'an.
According to some reports, more than 5,000 people poured into the city from other areas, with smaller mobs spreading to narrow alleys where they ransacked homes.
Christians who fled in their hundreds criticized the police for failing to protect their property, with some sheltered by their Muslim neighbors.