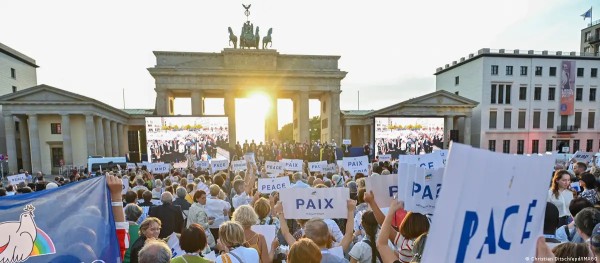 The Sant'Egidio meeting ended with a rally by Berlin's Brandenburg Gate. Image: Christian Ditsch/epd/IMAGO
Christoph Strack, 13 September, 2023
The war in Ukraine has entangled both politics and religion. In Berlin, it shaped the large peace rally organized by the Catholic community of Sant'Egidio, which brought together representatives from dozens of faiths.
It was a colorful and diverse scene as the world's religions gathered at the Brandenburg Gate in Berlin earlier this week: red, violet and white yarmulkes, gray and black turbans, large hats with 12 Coptic crosses and brightly colored robes in yellow or orange.
Representatives of about 40 different faiths were in attendance, including Christians, Jews and Muslims, Hindus, Buddhists, Shintoists, Sikhs, Zen-Buddhists, and Zoroastrians. The large gathering made for a surreal scene, fluctuating between earnestness and merriment.
The rally was the finale of a three-day peace conference organized by the Catholic Community of Sant'Egidio in the German capital. Berlin was chosen as the location because it symbolized coexistence in Europe since the fall of the Berlin Wall in 1989.
"It is very moving for me to speak today in this place, in which history — for better or worse — has so much to say," said Marco Impagliazzo, the president of this global movement within Catholicism since 2003, as he began his address.
Peace brokers in the most difficult conflicts
The Community of Sant'Egidio originated in Rome in 1968 and has about 60,000 members in more than 70 countries today, according to the organization. It's a Catholic movement for peace that aims to provide political mediation, even in the most difficult conflicts.
Its greatest success was the peace agreement reached for Mozambique in 1992. Constant efforts toward reconciliation are underway in several regions on the African continent. However, dialogue between religions is becoming an increasingly important aspect of their mission.
This peace conference, the 37th since 1986, was dominated by discussions on the situation in Ukraine. German President Frank-Walter Steinmeier and German Chancellor Olaf Scholz both gave speeches that had a strong focus on Russian aggression and Ukraine's right to defense. The Russian invasion of February 24, 2022 "changed everything," Steinmeier said on Sunday.
He spoke of a Russian "campaign of destruction" against fundamental European values and emphasized the need and justification for supplying weapons to Ukraine. And — without directly naming him — Steinmeier spoke strongly against the Russian Orthodox Patriarch Kirill, who has emphasized his closeness to Russian President Vladimir Putin.
"Whoever in the name of religion stands by the side of an aggressive warlord who wants to subjugate a peaceful democratic neighboring country using violence […] fundamentally offends against the faith commandment of peace!" he said. Orthodox representatives from Russia were not invited to the peace conference.
Sant'Egidio is at its core a Roman organization and pays great attention to the course taken by the pope — and Francis has held back on statements against Putin.
Perhaps that is typical of the wide breadth of opinion on display during the conference. During a panel discussion about the difficulties faced by Christians in parts of the Middle East, the moderator surprisingly gave the floor to the Russian Orthodox Archbishop Tikhon, who leads the Berlin diocese and was sitting in the audience. Without any objection, he lamented the "religious persecution" of Russian Orthodoxy in Ukraine. He failed to mention the destruction of Ukrainian churches, which has caused suffering among Ukrainian believers.
One of Berlin's most well-known cardinals was the chair of the Italian Bishops' Conference, Bologna's Archbishop Matteo Maria Zuppi. He was the special envoy for the pope for a peace mission in the Ukraine war. From Berlin, Zuppi flew on to Beijing to meet with Chinese leaders about the pope's wish for peace.
Accusations of Western double standards
There is usually little spontaneity at Sant'Egidio gatherings. To name an example, during a panel discussion about inter-religious dialogue as a "resource for global peace," Italian Foreign Minister Antonio Tajani spoke for a good 25 minutes.
Afterward, framed by a prolonged moderation, six representatives, five men and one woman, made statements lasting at least 10 minutes each. When a leading Shiite cleric bemoaned a "conflict between some Western values and basic human instincts" and called it a "double standard" that burning an LGBTQ flag was considered a "hate crime," while burning a Quran was considered "freedom of expression," nobody intervened.
Audience enthralled by young Afghan woman's story
The annual Sant'Egidio peace conferences traditionally have a fixed style and are shaped by the Italian organization and its male founding generation. But this year's event showed that it can also be different: less of an academic talkfest, more true-to-life and exciting.
About 1,000 Berlin students followed parts of the program, according to Sant'Egidio. At a forum for young people, Zohra Sarabi took part in a question-and-answer session alongside a peace activist from Ukraine and a priest who cares for defenseless migrants in Mexico.
The 19-year-old Afghan, who was able to leave her country via a humanitarian corridor organized by Sant'Egidio following the Taliban takeover of Kabul in 2021, is now living and studying in Rome.
"Freedom is everything," she said. "The people in Europe think we want a better future. But it is simply a future that we want. In Afghanistan there is none." Her pain when remembering friends and relatives in her former homeland was palpable. The question-and-answer session in the crowded hall was two hours of enthralled listening, sometimes with thunderous applause, sometimes quiet sympathy.
Sant'Egidio has had remarkable success in bringing prominent religious leaders from all over the world together. At its closing assembly, the community's leader Impagliazzo cited the image of the fall of the Berlin Wall.
"Right here, a wall has fallen. […]. Despite their differences, the religions have learned to coexist, complement, and support one another, no longer fight against each other, no longer see each other as rivals, but rather stand with and beside each other. […] Today we speak the same language, the language of peace!"
This was met with applause from all the religious representatives, who together signed an appeal to work toward peace: Peace does not mean to resign oneself to injustice, it stated. "No war is forever!"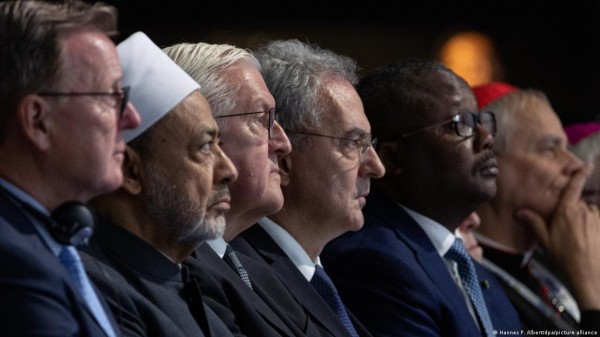 Sant'Egidio brings prominent religious and political leaders from all over the world together. Image: Hannes P. Albert/dpa/picture alliance