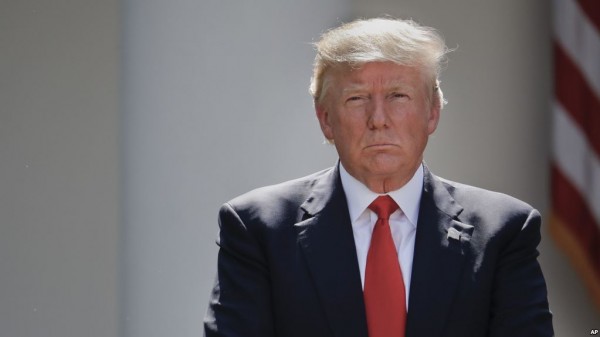 President Donald Trump stands next to the podium after speaking about the U.S. role in the Paris climate change accord in the Rose Garden of the White House in Washington, June 1, 2017.
2018-04-23
"Trump now has an opportunity to shine a light on the massacre of over 1.5 million Christian Armenians at the hands of the Ottoman Turks," wrote Andy Surabian, a former special assistant and campaigner for U.S. President Donald Trump, in an op-ed for the Washington Examiner.
After decades of sporadic massacres of Armenians, a large-scale slaughter of as many as 1.5 million began in 1915 when the Ottoman Empire began to systematically deport and kill its Armenian population, fearful that the Christian minority would act as a fifth column for the Ottomans' Russian enemies.
Most international scholars and 29 countries recognise the events starting in 1915 as a genocide; Turkey, however, admits that massacres took place but rejects the term genocide.
The United States has issued annual statements on Apr. 24, the date when mass deportations began in 1915, now held as the annual Armenian Genocide Remembrance Day.
"Thankfully, this April 24, Trump can finally end this 37-year presidential charade," said Surabian, who cited the president's holocaust remembrance speech last year as "one of the most moving of his presidency."
"We must never, ever shrink away from telling the truth about evil in our time ... evil can only thrive in darkness," said Trump on that occasion.
Surabian also noted Trump's repeated references to the killing of Christians in the Middle East. Massacres of Christians, notably in Egypt and Syria, where extremist jihadist groups have targeted non-Muslim minorities.
"One hundred years later, the cycle of genocide is continuing in that part of the world. He can continue his bold leadership and reinforce his standing as a protector of Christians worldwide by speaking honestly about what was the first Christian genocide of the 20th century," said Surabian.
Surabian also criticised Trump's predecessor, Barack Obama, with harsh words that held hints of the current president's own rhetoric.
"The worst of all was former President Barack Obama, who after making grandiose promises to the Armenian-American community during his 2008 campaign, showed nothing but weakness as he buckled under pressure from Turkey in embarrassing fashion," he said, referring to promises to recognise the genocide that had won him the support of many Armenians.
"While the Obama administration had the chance to lead when he was in office and failed, Trump now has an opportunity to reject the weakness of his predecessors and do the right thing," said Surabian.
Any such move by Trump would be sure to ruffle Turkey's feathers at a time when relations are already at a historic low, with anti-U.S. rhetoric a frequent fixture in Turkish President Recep Tayyip Erdoğan's speeches, and U.S. pastor Andrew Brunson held on highly controversial terrorism charges in Turkey.
"The inside-the-Beltway crowd will tell the president it can't be done. Ankara will threaten the end of the world. Turkey's lobbyists will work the swamp to stop him," said Surabian.
"'Experts' will say that Turkey deserves a veto over his words because it is an "ally," even though Turkish President Recep Tayyip Erdogan is undermining American interests, jailing American citizens for practicing Christianity, threatening to destroy Israel, and even threatening U.S. forces in Syria," he added.
Turkey strongly opposed Trump's statement recognising Jerusalem as the Israeli capital, and has threatened on numerous occasions to attack Kurdish forces in Manbij, an area of northern Syria where the United States has deployed troops.