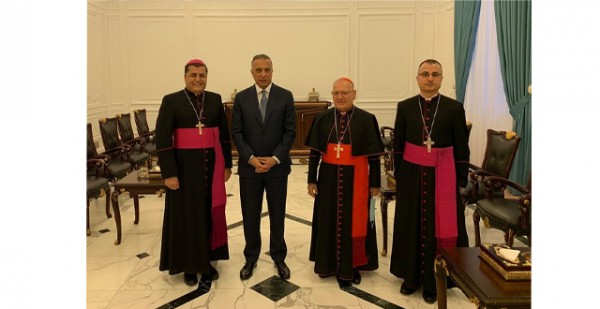 Ishtartv.com - saint-adday/
Honorable Prime Minister Mustafa Al-Kadhimi,
Greetings.
What we witnessed last week was very painful and worrying, regardless of the reasons, which prompted me to send this special and frank message to your Excellency, stemming from the sincerity of my love for Iraq.
Excellency PM,
Ensuring stability in Iraq is taking concrete and courageous steps to agree on the shape of the state. The structural problem is that no realistic agreement has been reached so far on the form of the state, or most politicians are not satisfied with a regular state, in which loyalty to the homeland and confining arms to the state in defense of its absolute sovereignty. What is the shape of the state realistically and not theoretically in Iraq? Is it federal, democratic, civil, religious, etc.? I think the situation is still very vague and complex. The dilemma is in the form of the state and not in the formation of the government, as it is possible to agree on the government, but each party remains preserving its own concept of the state, authority and interests. It seems that all paths to reconciliation are suspended so far, and speaking of an open dialogue that I see as useless without the presence of a responsible political and national will, to build new, sincere relations for cooperation in achieving equality among all Iraqis, ensuring their rights and equality, and providing them with services.
This requires agreement on the form of the state, the constitution and the system. Our politicians need to be humane and patriotic and seek peace and love, as Pope Francis emphasized during his visit. There is a feeling of postponing the election or not holding it. I see if these elections were held and were not in favor of some political parties, they would not accept their results, and the country would return to square one.
Excellency PM,
After 18 years of the demise of the regime, and the exacerbation of the political, security, economic and health crisis, the Iraqi politician must develop their thinking and renew their affiliation and commitment to serving the people. This noble message is eagerly awaited by the citizens. I hope that your Excellency will study these points I mentioned with other presidencies and parliament.
With my prayers and wishes for good health, peace and success.